Every third student has experienced bullying at school. This is a challenge not only to psychologists and teachers, but also to designers of educational environment. Ensuring that aggression has no space where it can occur is a passive safety tool. We chose thirteen anti- bullying solutions for schools and looked at how they can reduce the risk of bullying.
---
1. Individual universal cubicles in toilets
Separate toilets for boys, girls, and teachers
Fully isolated individual cubicles with no separation by gender or status
Photo: EdDesign Mag; Sabrina Scheja, New Weiach Kindergarten
A cubicle is an enclosed room with floor-to-ceiling walls. A group of children cannot enter such a cubicle to lock it from the inside and abuse another child. It is designed for one person to be comfortable in, while two or more will not fit. In addition, public control can improve tidiness: the toilets are not three separate rooms – for girls, boys, and teachers – but one room with individual cubicles. When a person comes out of the cubicle, anyone can see in what state it is left. Teachers use the same cubicles and control the cleanliness.
It takes longer to clean individual cubicles, but there are special engineering solutions to speed up the process: traps in each cubicle, sanitary showers, tamper-resistant and easy-to-wash materials – ceramic granite, washable acrylic paint, moisture-resistant partitions.
Also washbasin area might be safe and visible as the restrooms at West Calder High School: in washbasins for boys and girls the principle of visibility of a potential bullying space has been implemented:
Photo: Architecture and Design Scotland 
---
2. Increased size of partitions in toilets
Low partitions; large gaps between the floor and the partition
high partitions reaching the floor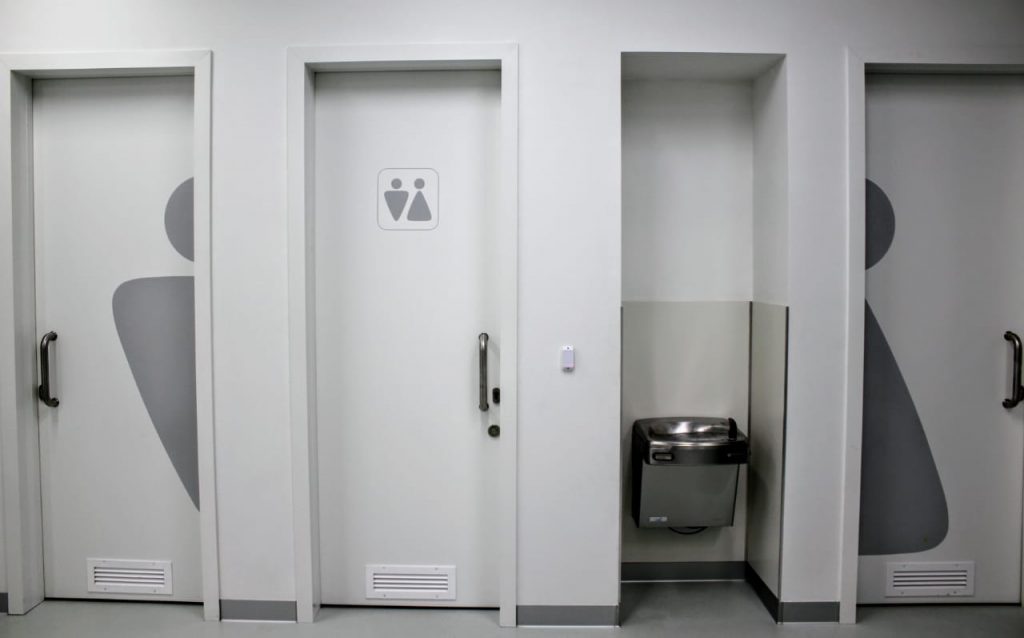 Photo: EdDesign Mag 
One of the popular cyberbullying methods is leakage of intimate photos taken in the bathroom. If installation of separate cubicles is unfeasible, it makes sense to change the height of the partition feet. Make the gap at the floor as small as possible, no more than 5 cm, and the partition – as high as possible to exclude the possibility of taking pictures with the phone from the neighboring cubicle. Gaps at the bottom are often at least 20 cm to facilitate cleaning the premises, and the partitions – no higher than 180 cm to save on material.
---
3. Toilets in passageways
Toilets are out of sight, in dead ends, at the ends of corridors
Toilets are in plain sight, in passageways
Photo: Glenn Tang, McCutchanville Elementary School
Dead ends and enclosed corners are ideal environments for bullying. It is advisable to place the sanitary facilities in high-traffic places visible from several sides. It might be the center of the recreation field, so that children feel that adults and other children are somewhere nearby. This solution ensures that there are no "dead-end zones" where no one goes and it is easy to squeeze a child into a corner. Making the corridor with a toilet unit a passageway to other areas of school creates a shared, controlled space. Toilet doors in the passageway can be visualized by video cameras from the recreational area, which provides additional control. The solution is also effective because it saves space and reduces operating costs: unnecessary corridors and aisles are counter-productive.
In 2018, Cuningham Group Architecture bureau released a study titled Inclusive Restroom Design where they reviewed the basic design elements of universal restroom areas. The study proves that the location of toilets in passageways leads to greater safety.
Relationship between bullying and educational environment

"The level of irritability and vandalism is higher where the environment initially looks sloppy, shabby and neglected," says Marina Rtischeva, Travli NET anti-bullying project expert and psychotherapist. "In other words, if one window is broken or one chair is broken, you can expect other ones to be broken soon. An unwelcoming environment is detrimental to the feeling of comfort and safety and becomes a fertile soil for bullying."

Bullying also occurs where children have nothing to do in their free time; in that case they can amuse themselves by humiliating the weak. In a diverse environment with a variety of activity options, there will be less time for bullying.
---
4. Washbasin area must be viewable
The washbasin area is in an enclosed restroom area and is not visible from public areas.
The washbasin area is visible from the corridor or recreational area.
Photo: Clement Guillaume, Olympe de Gouges School 
If it is not possible to implement the idea of individual universal cubicles in a school, it is important to provide passive outside control of the common handwashing space in the restroom. A common method is dividing the toilet into two zones: a closed space with cubicles and an open space with washbasins. The washbasin area is either behind a glass door or has open access from the corridor/recreational area.
For instance, the washbasin area in SPPS St. Anthony Park Elementary School (USA) has its own "anti-bullying" solution. The wall separating the passageway to the cubicles is low, opening up the view – and it also includes the hand-washing area. If it is not possible to install the sinks in a viewable place, video surveillance can be organized in "non-intimate" areas of the toilet.
---
5. Dressing rooms you can't hide in
Enclosed, poorly illuminated rooms, one common dressing room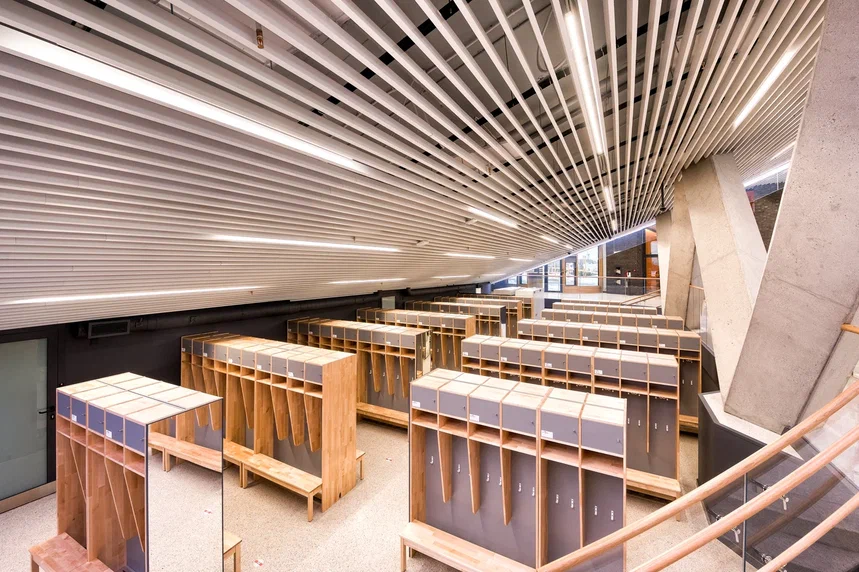 Photo: Wunderpark International School 
Dressing rooms must be walk-through and spacious. Otherwise, the place becomes dangerous even without bullying. Traffic flows of people who are entering the cramped dressing room, who are changing clothes and shoes, and who are leaving, create a crowd. If there are no spacious dressing rooms in a school, then a reconstruction is mandatory, with erection of additional rooms if necessary.

Open dressing rooms are a good solution not only in terms of bullying prevention, but also for combatting theft. Combined solutions work best here. For example, create an open dressing room with individual lockers and enclosed individual dressing booths.
Even non-passable dressing rooms can be made as transparent as possible. For example, place them near the light front of the facade, so they are also visible from the street. In this case, passages between lockers should be visible from different sides – no "blind spots" are allowed.
---
6. Viewable classrooms
Classrooms which cannot be viewed from the corridor
Transparent door or floor-to-ceiling windows overlooking the hallway/recreational area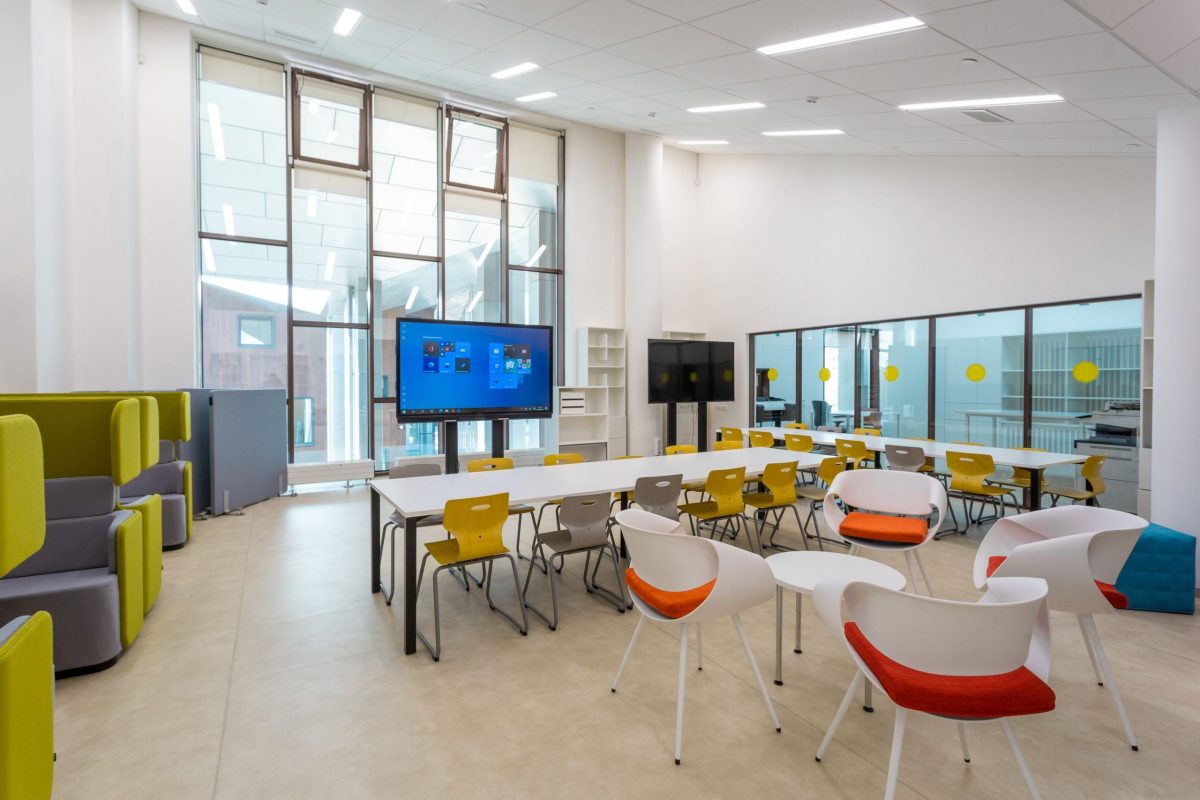 Photo: EdDesign Mag 
Make the school as transparent as possible. Let each class have a transparent wall, or at least a transparent door, so you can see what's going on in the hallway, and vice versa. First it may seem a bit strange, but experience shows that children get used to classrooms with transparent walls in just a week or two. They like being included in the common life even when they are in the classroom. The problem of bullying, which occurs primarily in unviewable rooms, is also solved this way. If you are working with an existing building, replace the doors with transparent ones. Even making transparent inserts in non-carrying walls is not a problem.

Stained glass windows overlooking the recreation area not only support the passive control system, but also add "life" to school.
---
7. Schools with no corridors
Instead of corridors – recreational areas, areas for creativity, lounge areas, etc.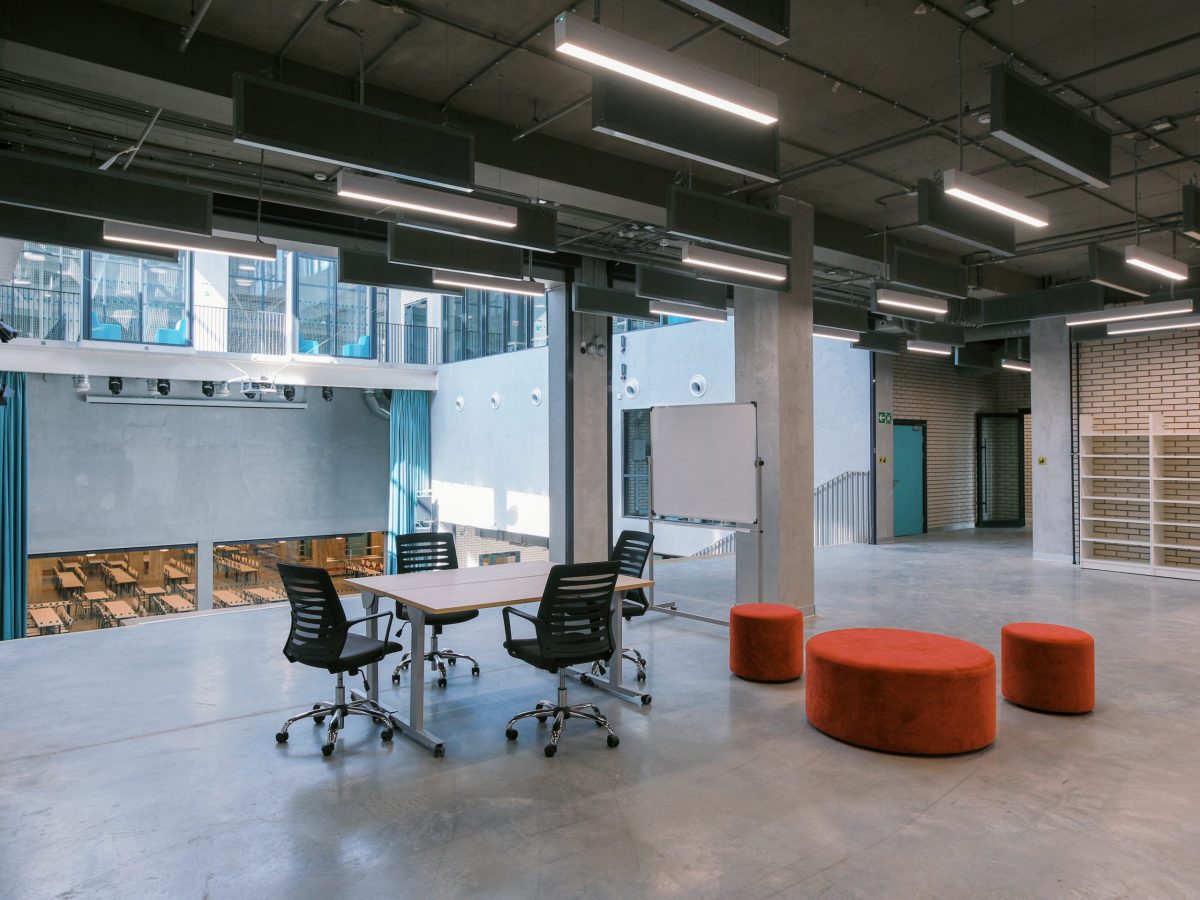 Photo: EdDesign Mag
Many architectural bureaus try to eliminate the classic "classrooms-corridors-toilets" layout in new school projects. To do this, it is necessary to invent a style for each floor, to saturate it with function: It may be a media library, a recreational area with trampolines, or a cafe. Presence of people is an important factor for combatting harassment.
In addition to solving the problem of bullying, the building is more operable without corridors. Therefore, architects tend to turn corridors into recreations. They can be places for games, physical activities, or resting.
---
8. Second life of dead ends
Dead ends are inevitable in a corridor system, they are usually deserted and dangerous in terms of bullying
Remove dead ends or animate them
When designing a school, it is best to avoid dead ends from the beginning, and those that already exist should be filled with life as much as possible. If there are any events in a dead end, such as exhibitions or speeches, there will be no room for bullying. The space will simply be occupied with other processes. This also applies to the street. If you have a backyard and two blank walls facing it — hang two basketball hoops there and arrange some steps nearby for seating. Then children will hang out there instead of hiding. In short, dead ends should attract unexpected visitors: bullying occurs in desolate places. Ring layouts help eliminate dead ends.
---
9. Active stairwells
Stairwells in schools are only used for transit
Make ladders active. If they are used all the time, bullying is impossible here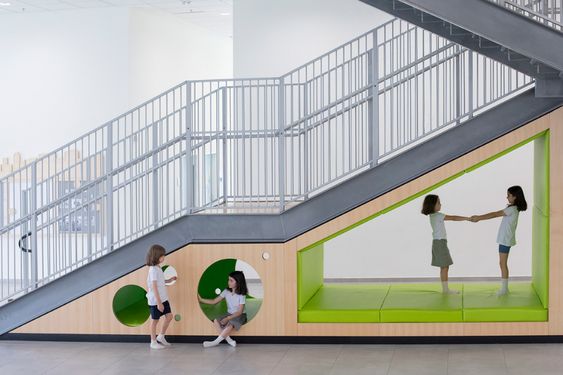 Photo: Sarit Shani Hay, Tel Aviv School 
A clean staircase with a stained glass window or bright light and fresh interior, which is often used by people, is a guarantee of safety. But a stairwell can also become a point of attraction.
Safety is achieved through layout solutions where each floor has its own function. In one of the projects by Ed Architecture, a staircase was turned into a poetry circle meeting venue: children would sit on the steps, and the speaker would perform from below. Thanks to the steps and glass enclosures, he or she was clearly visible, and the finishing materials made the speech perfectly audible.

Staircases are the most important element of communication for both the facility and the children; educational and aesthetic function of stairwells may be enhanced by posting useful information (building plan, navigation, schedules, quotes, etc.), adding large glazing fronts, and using quality materials.
Architects advise against leaving the spaces below stairwells open – they either need to be given a function or closed. Otherwise, the aggressors will choose this place for bullying.
---
10. Combining the dining room with public spaces
An enclosed isolated room with an irregular schedule of use
Make the canteen transparent and viewable; organize flows and integrate with other spaces in school
Photo: Adam Moerk, Copenhagen International School 
The canteen is another common place of bullying. The abusers can deliberately spill or throw food on the victim, or somehow spoil the food, depriving the victim of his or her lunch. The problem with the canteen is that it is used very unevenly: in the first half of the day and especially at lunchtime there is a large influx of people. Tight spaces always lead to conflict. The rest of the time the canteen is empty, and empty spaces are a fertile soil for bullying.

To solve this problem, we suggest integrating the canteen into other public spaces. That is, when the room is not used as intended, treat it as an event venue. This is especially convenient if it is adjacent to the assembly hall. This requires solving two engineering challenges: making the space flexible and quickly ventilatable.
At a time when the canteen is actively used for its intended purpose, it is important to properly organize the flow of people and technological processes.
Simultaneous presence is only allowed for those:
who has just come in and wash their hands;

who take food at the distribution counter (and the child needs the time to decide);

who are looking for a place to sit with a tray of food;

who have already eaten and clean up after themselves.
These flows must not interfere with each other. The task of the designers is to eliminate such places where there may be a large congestion of people.
In addition, it is important to make visible the dining room itself, the areas of approach to it and the washbasin area. This can be solved, for example, by using a transparent wall, and making the canteen sinks open in the common recreational area.
---
11. Smart approaches and stadium without fences
Safety of the area around the school depends on the surrounding landscape. The paths and approaches are not always well lit. The layout of the building suggests blind spots on the outside
Make the surrounding area fully viewable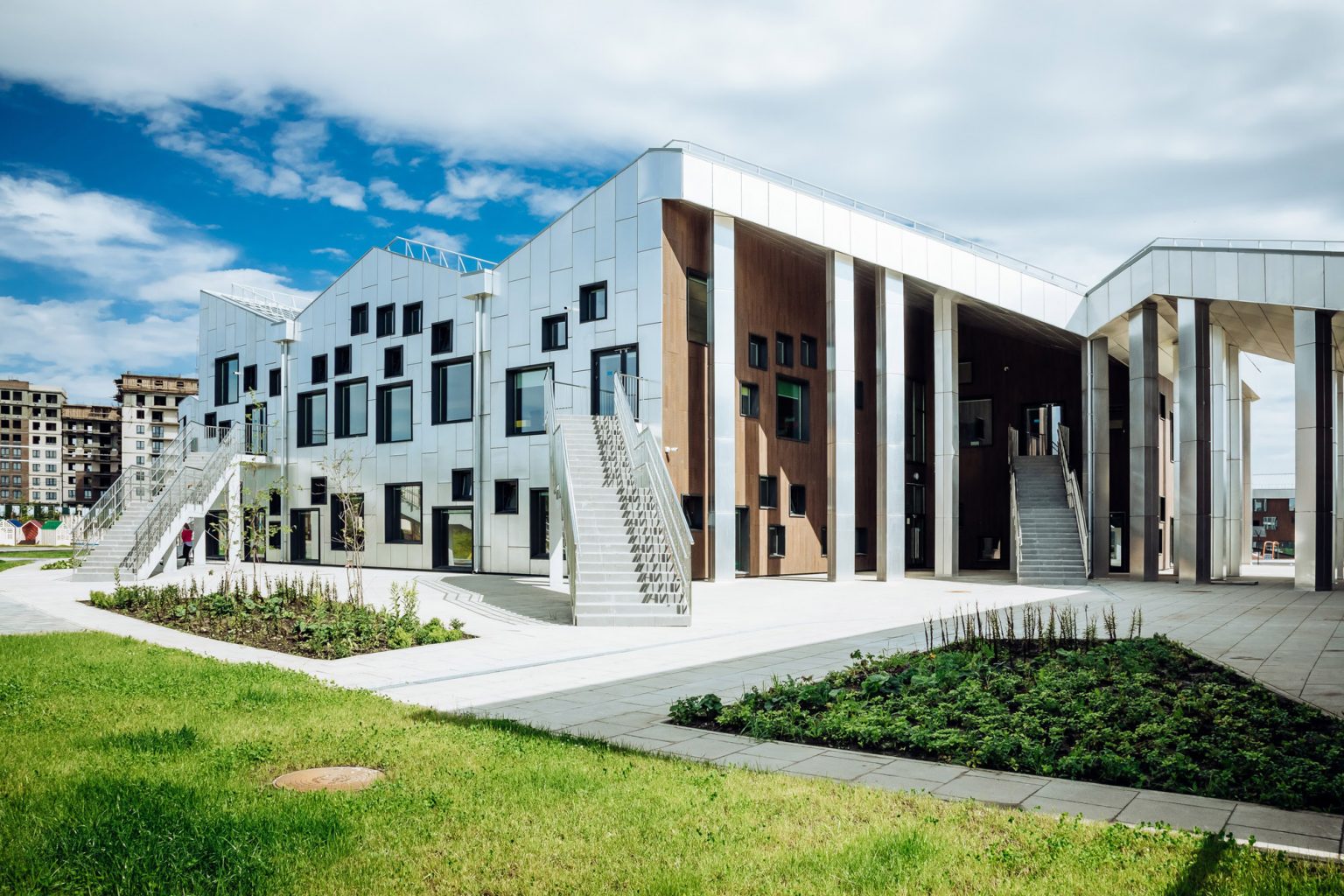 Photo: EdDesign Mag 

There's a rule: If you want to improve the urban environment, you have to illuminate it first. The territory of the school is the first to which it applies. In our climate, it's dark half of the year, so it's fundamentally important that both the inside of the school and the approaches to it are well lit. The second point: the paths leading to school should be comfortable, clean and well-paved, so that you want to walk on them. The space needs to be organized so that there is life in it all the time.
The entrance to the school grounds should be visible from afar and preferably from everywhere – this is a general security rule.
The path from the gate to the building entrance should preferably be winding – to lengthen the route and give the guards a better chance to react in case of external threats. Any fencing and landscaping around the perimeter of the school should not interfere with natural and technological observation.
Ideally, the school grounds should have as few hidden corners as possible. In case of complex configuration of the building, involving, for example, an inner courtyard, it is desirable that in the first floor, this courtyard is visible from public school spaces with large windows, or administrative offices.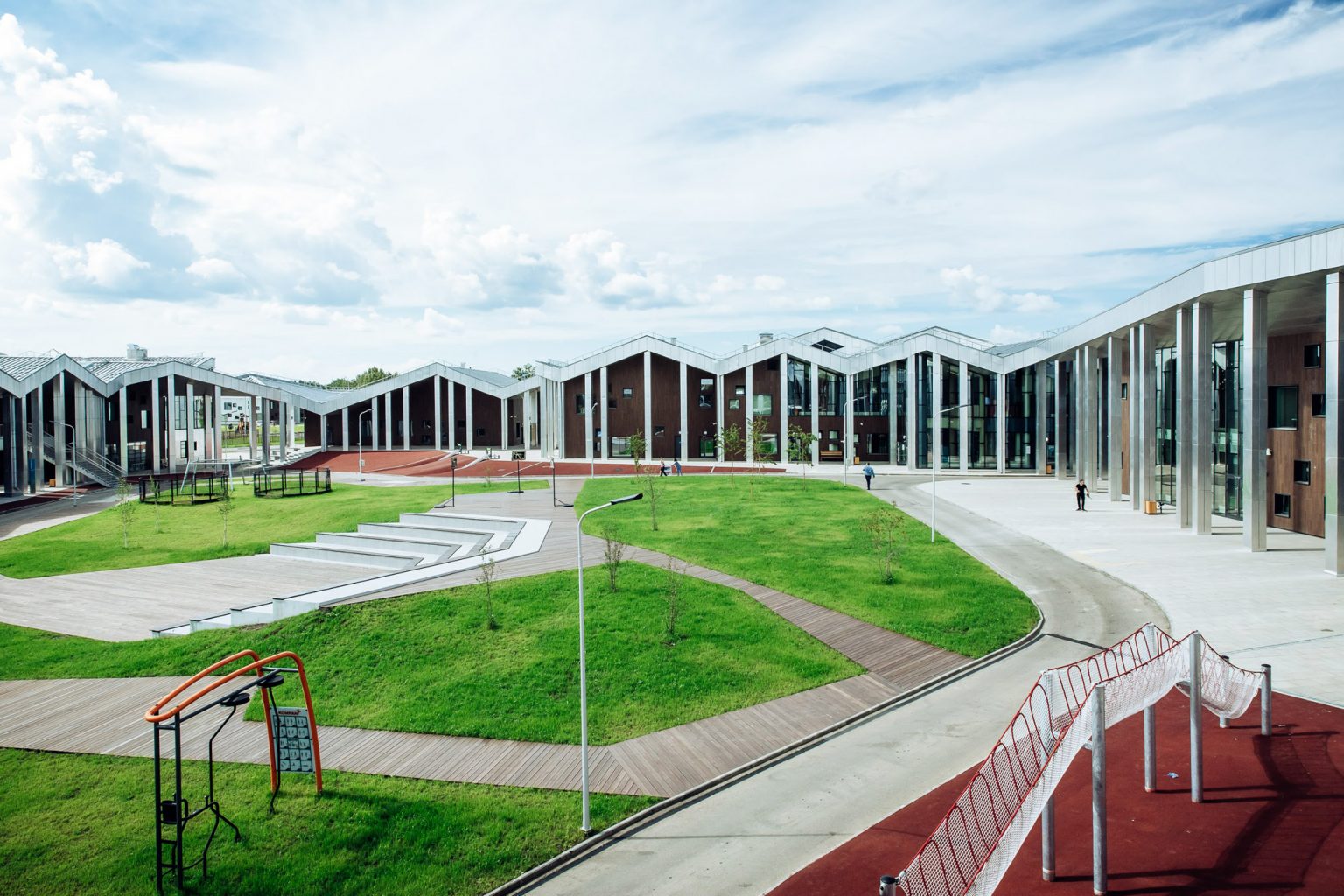 Photo: EdDesign Mag 
Transparent fencing can be used for outdoor playgrounds in the school territory. The stadium should not be fenced in at all; install only protective sections behind the soccer goal.
---
12. Spaces for stress relief
Only scheduled gym classes for active indoor games
Different open-access activity areas
Photo: Bauhaus studio, Hibinosekkei 
Children who are able to blow off steam on the sports field are less likely to bully the weak. Any physical activity is a stress reliever.
The school should provide for activities: it can be sports areas in the recreations – nets and trampolines, wall bars, table tennis and just free places where the child can run and shout or play catch-up.
The same applies to the school grounds. Treadmills, playgrounds, outdoor fitness equipment, rope parks, skate ramps, pump tracks, rock climbing walls all have the potential to distract teens from bullying.
---
13. Spaces to do things together
Schools with a traditional layout have a shortage of spaces for extracurricular activities
Organize multi-format spaces outside of classrooms where kids can socialize and do things together
Bullying rarely occurs in friendly communities. It is the task of educators to shape them, but architects also have their say. In terms of the environment, there must be zones for different communication and learning formats, elements of biophilic design — when natural elements are integrated into the architecture and interior, airy spaces with plenty of daylight, and involvement of students in the arrangement of the ambient space.
Ideally, a school should be a place which children do not want to escape – on the contrary, they can stay here and have a varied and interesting time.
Zones for extracurricular activities are created both in the main rooms of the school and, when they are integrated, at the junction of functions. These can be media libraries, atriums, etc. Blurring the boundaries of the educational process is a general trend. We are moving toward the point where the entire school site, including the surrounding area, becomes a field of learning.
Not all children are easily sociable and make buddies quickly. This peculiarity often makes them outcasts and victims of bullying. To help such students make friends, many British schools arrange "friendship benches". Whoever sits on the bench, sends a signal that he or she is open to communication and is looking for a companion or a partner to play with. This makes it much easier for children to make friends and avoid awkward situations.
Experts of the study:
Anna Klyueva, EdDesign LLC Lead Architect
Sergey Ostroukh, Founder and General Director of the IMAGO architectural bureau
Anna Shapiro, EdDesign LLC Chief Architect
Vladislava Kalinina, General Director of AKVK&Partners architectural bureau
Mark Sartan, School 800 Principal 
March 2023