The UWC Dilijan campus spans 8 hectares of the Dilijan National Park, located 100 km from Yerevan. The campus is surrounded by mountains and forests. Dilijan is situated at the crossroads of Europe and the Middle East, making it the perfect place for promoting the idea of internationalism and friendship, according to its founders, entrepreneurs Ruben Vardanyan and Veronika Zonabend.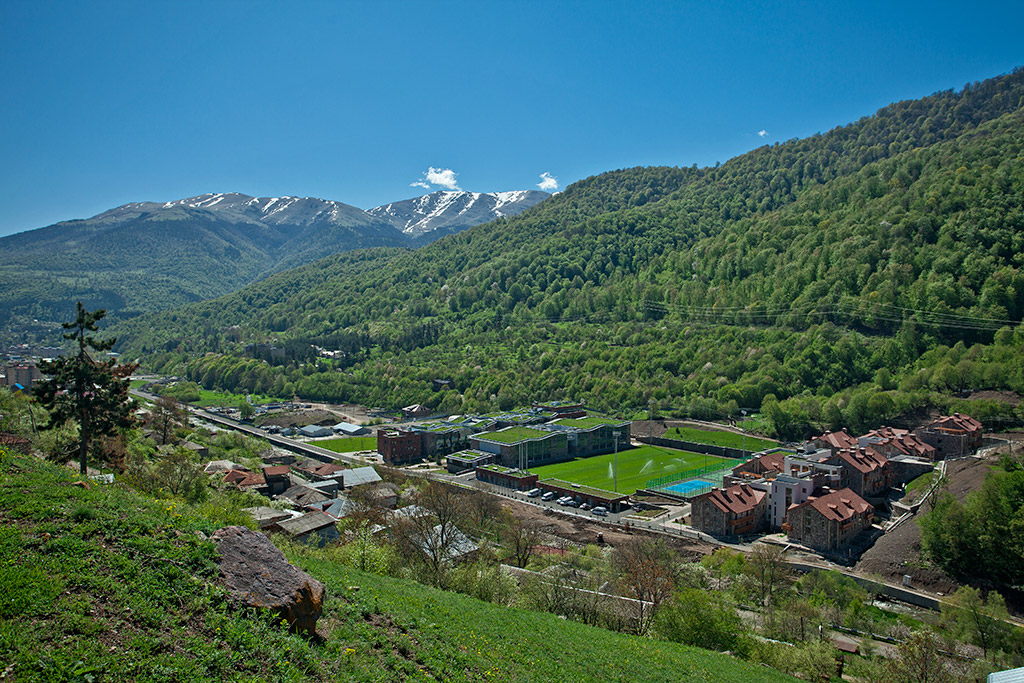 Photo: Boarding School at the Armenian College UWC Dilijan.
---
Idea

"We dreamed of creating an international school in Armenia that could become an incubator for intercultural education, which is crucial for today's fragile planet – a school that would inspire students to respect each other and become true global citizens," said Vardanyan and Zonabend, explaining their reasons for opening the college in Dilijan.
The school was founded in 2014 with their funding and the support of other benefactors. UWC Dilijan is part of the international United World College system (comprising 18 colleges in total), whose goal is to bring together students from different cultures and nations under one roof. In Dilijan, 220 students aged 16–18 are enrolled in a two-year International Baccalaureate (IB) program.
---
Education and Living
Students at the college come to Dilijan from 80 different countries, and all of them live on campus. The UWC concept envisions a school where no single dominant culture prevails, so among the students, there are no more than 10–15% representing any one nationality. The primary language of education is English, and students also study Armenian at a basic level.
Photo: Boarding School at the Armenian College UWC Dilijan.
"We make every effort to foster harmony among the children. It's very challenging when children of different incomes, so many nationalities, religions, and cultures study together: students from conflicting territories and those whose parents could send them to the world's best schools but chose UWC because they understand that our school provides an authentic experience and a foundation for the future," says Arpen Garyan, Public Relations Manager at UWC Dilijan. "Education, shared living, and activities somewhat level the playing field for everyone."
---
Finances
The total capital investment for launching the project amounted to $150 million. The college's operating budget is approximately $7 million per year, with $2 million allocated for infrastructure maintenance. Partial scholarships are awarded to 80% of the students, while 20% of the students receive full tuition coverage.
In the initial years following the opening of UWC Dilijan, 80% of its funding came from Vardanyan's family. Now, the college raises around $3.5–4 million annually through fundraising efforts, thanks to its increased global recognition. Donors include former students.
The boarding school's founders plan to open a middle and elementary school because sustaining a project for 200 students is not cost-effective. Even if the number of students were to double, the budget would only increase by 30%, as there are many fixed expenses related to teacher salaries and administration. With the current campus fully occupied, infrastructure expansion would be required to accommodate 400–500 students.
Future plans include the construction of a new dormitory, a building for the elementary school (costing $22 million), and a 650-seat concert hall (approximately $60 million). In total, approximately $100 million in financing is needed for these projects.

---
Campus and Construction
The architectural concept for the campus was developed by the British firm Tim Flynn Architects, with RD Group serving as the general contractor. The first phase of construction included the school's academic and administrative building, the dormitory, a sports complex, a FIFA-regulation football field, volleyball and basketball courts, tennis and squash courts. These buildings cover an area of approximately 37,000 square meters, and an additional 32,000 square meters would be occupied in the event of campus expansion.
Architects incorporated Armenian motifs and materials into the design, using tuff for construction and carved wood for finishing. Additionally, over 1,300 square meters of "green" walls and 4,750 square meters of "green" roofs were created using local plants and flowers. Solar panels have been installed on the buildings, covering approximately 10% of the campus's total energy needs during the summer months. The college plans to implement a solar water-heating system for use in the cafeteria and install a mini-hydro power station on the nearby river. The campus holds a BREEAM certification for "green" construction.
Photo: Boarding School at the Armenian College UWC Dilijan.
---
Infrastructure
Students live in residences known as "toons" (translated from Armenian as "houses"). The residential buildings are divided into blocks, each consisting of two floors: one floor is for boys, and the other is for girls. Students are accommodated in groups of 2–4 individuals. In the case of four-person accommodations, the toilets and showers are located in the corridor, while in the case of two-person units, they are next to each room.
Photo: Boarding School at the Armenian College UWC Dilijan.
Each building has a laundry room, an ironing room, and two kitchens equipped for storing and preparing food. Students are responsible for washing their own clothes, and the school sends bed linens and towels to a commercial laundry service every two weeks.
The library has areas with computers for independent study. The cafeteria is located in a separate building and caters to the multicultural composition of students from 80 different countries. The menu includes vegan and halal options, gluten-free and dairy-free food. Additionally, the college hosts days featuring various national cuisines.
Photo: Boarding School at the Armenian College UWC Dilijan.
---
Staff

At the college, educators are referred to as "toon parents." According to Arpen Garyan, students have the same level of access to these educators as they would to their own parents, which creates a sense of home. However, one drawback is that students may sometimes overstep boundaries with staff and expect more attention than is actually required.
Typically, a dormitory or residence hall is staffed by 6 "parent" figures, with each responsible for overseeing 36–40 students, and they are assisted by two helpers. Additionally, there is a residence head who oversees residential life as a whole. The dormitory team consists of 9 people. The college"s academic staff consists of 32 teachers, with some employees holding dual roles as educators and residential staff. Teachers may reside in the same building as the students, in separate apartments, in staff housing on campus, or off-campus.
The college also outsources various services, employing around 90 people for tasks such as cleaning, landscaping, catering, and security.
---
Safety and Rules
Access to the dormitories and floors is organized through electronic cards, and a student can only access areas where their room is located. The college has protective barriers, security personnel, cameras around the campus, and in educational areas. Surveillance cameras are also positioned at entrances to the hallways and laundry rooms to prevent theft and enhance security.
Students are allowed to leave the campus – the timing varies depending on the day of the week and their academic schedule. In the evening, before curfew, they check in with staff, and after that, they are not allowed to leave the residential building, enter other floors, or enter each other's rooms. Students are responsible for cleaning their own rooms. Cleaning staff come in during the week to clean common areas, toilets, and showers.
Photo: Boarding School at the Armenian College UWC Dilijan.
The UWC code includes guidelines for appropriate behavior. According to the administration, there have been no reported cases of bullying at the college, but students can always reach out to staff if they encounter problems or use the anonymous My Voice app to report issues.
---
Leisure Activities
In the IB program offered by the college, in addition to academic subjects, there is a mandatory component called CAS (Creativity, Activity, Service).
For "Creativity," students have access to a theater in a black box format that can accommodate up to 80 people, as well as workshops. Students organize concerts, performances, and cultural evenings.
"Activity" involves students participating in activities such as hiking, expeditions, skiing, tracking, sailing, and mountain biking.
Photo: Boarding School at the Armenian College UWC Dilijan.
As part of "Service," students engage in community service and help the residents of Dilijan. They teach English to local children, collaborate on science projects with local youth, and work on environmental conservation projects in the region.
October 2023