Project Investor: Dr. Adil Alzarooni, CEO of Al Zarooni Emirates Investments, a family business holding firm
Address: 243 22 D St, Al Satwa, Dubai, United Arab Emirates
Area: 43,000 m2
Capacity: 2,600 learners 
Launch Date: September 2022
Citizens School, located in Dubai, aims to transform education by providing a bespoke experience-based, inclusive curriculum that caters to each child's individual strengths and approach to learning. It is spread across a thoughtfully curated 43,000 sqm campus with a capacity of 2,600 learners between the ages of 3 and 18. The school offers a range of facilities such as a multi-purpose performing arts and activity hall, FIFA and World Rugby standard football and rugby pitches, a six-lane semi-covered swimming pool and learning pool, and a dedicated dining area for primary school learners.
---
The school places a strong emphasis on student choices, believing that those lead to greater engagement and autonomy in the classroom. Citizens School's team is dedicated to identifying potential, nurturing talent, and celebrating bravery in learners, with the aim of incubating the entrepreneurs, creators, visionaries, and thinkers of tomorrow.
The founder of the school Dr. Adil Alzarooni while talking to the Ed Design Mag said that the idea to build Citizens School came to him ten years ago when he was exploring ways to enter the education sector. He wanted to create something innovative that could prepare learners for the fast-changing world and help them succeed in the future. Rather than copying existing models, he tasked his team with identifying problems and developing a unique solution to offer an education experience that met market demands.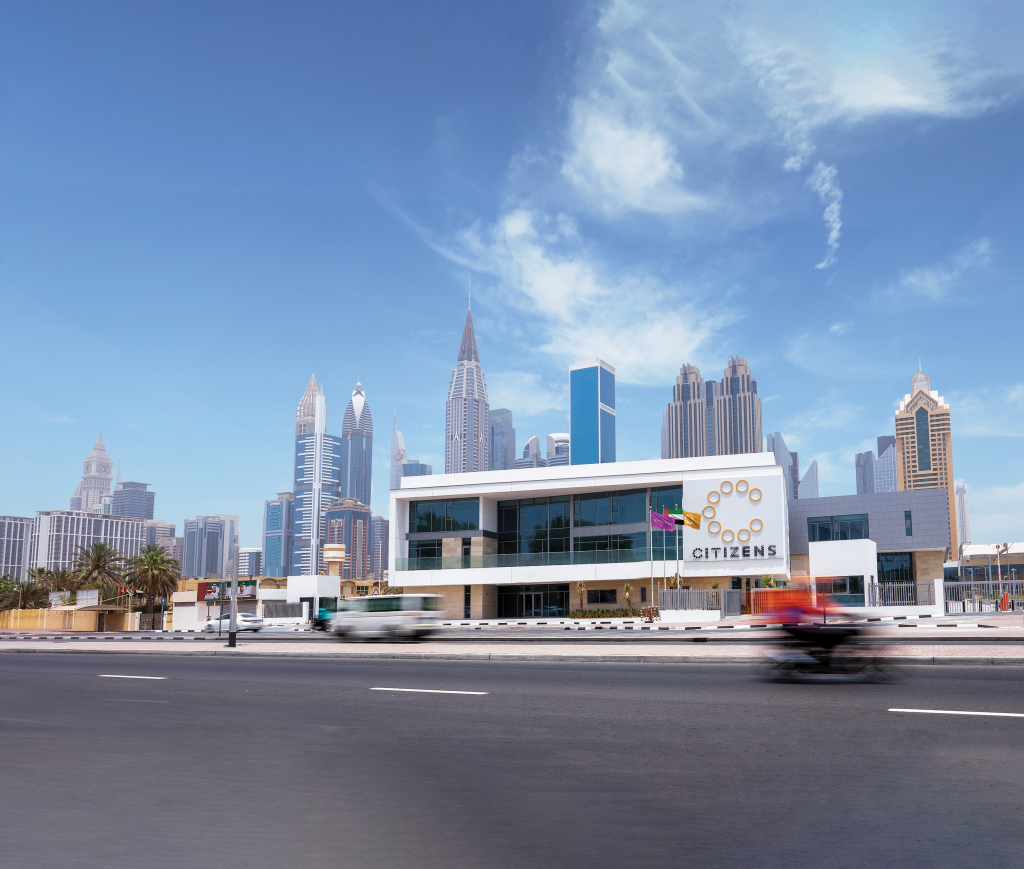 "I did not want to copy others. I wanted to find the problem first then develop something that [could] help solve that problem. I visited many countries, saw many projects and concepts but I couldn't find something that could give me answer of my questions. So, I trusted my team to think and find the things that we could add to an education system and offer an education experience that was needed in the market," Dr. Adil Alzarooni said.
The school's mission is to nurture the entrepreneurial skills of its learners and prepare them for success in the business world. Dr. Alzarooni highlights that around 40% of nursery school children today will not find jobs in the future and will need to be entrepreneurs. With this in mind, Citizens School aims to develop an education system that prepares its learners to handle entrepreneurship and the process of developing successful ventures.

"We needed to create an education system that knows how to prepare a generation that can handle entrepreneurship and handle the process of developing ventures bearing in mind there are more failures than successes in this line. We wanted to build an education system that could tell them ways to achieve success in businesses," Dr. Adil Alzarooni said
The Citizens' team is composed of carefully selected members who are called mentors instead of teachers. Each of them embodies the skills and qualities that the school wants its learners to have, such as agility, creativity, entrepreneurism, and a love of learning.
---
Design of the School
Dr. Adil Alzarooni told the Ed Design Mag that planning the design with the future in mind was a crucial aspect of the design process. With technology playing an increasingly important role in the education sector, the school was designed and built to prioritize connectivity and current trends in education.
---
A Central Gathering Zone for Learners and Parents
Upon entering the school building, visitors are greeted by a reception counter and a parents' café that provides a warm and welcoming contact point. The café offers healthy food options that align with the school's philosophy of wellness and healthy living, allowing parents to enjoy a comfortable wait.
The area also features a lobby and learning stairs, designed to promote interaction and community building. The lobby area includes soft seating and natural materials such as indoor plants, fostering a sense of warmth and wellness, and a connection to nature.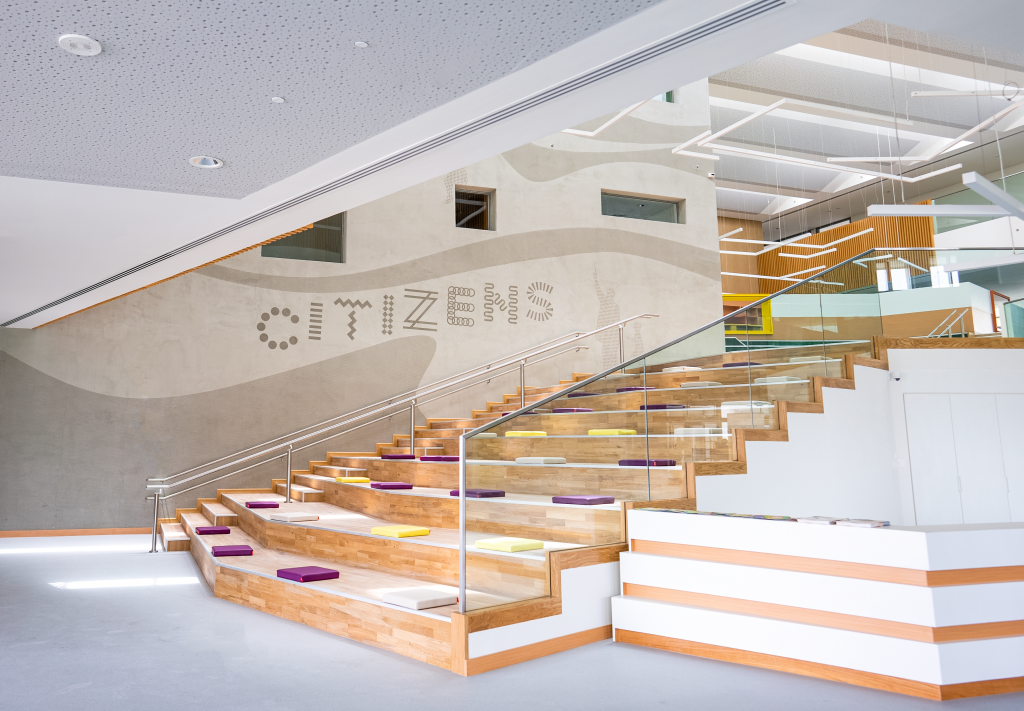 The learning staircase serves as the heart of the school, encouraging interaction and a shared sense of purpose. Citizens School has embraced the theme of sustainability throughout its structure. The entrance area is naturally lit, and the school maximizes the use of daylight in all areas to conserve energy and provide learners with a natural experience.
---
Learning Zones Not Classrooms

Citizens School are proud to create learning zones that immerse learners in an engaging educational experience. These zones are thoughtfully designed to promote a calm and focused environment, utilizing acoustics, natural materials, and neutral colors. In the foundation learning zone, the design aims to stimulate children's imaginations with its "hide and seek" exploration zone, private reading nooks, and playful and flexible elements, such as soft seating and large floor cushions.
Citizens School boasts a vibrant nursery that takes inspiration from the beautiful contours of the local AI Qudra lakes and its colorful birds. The space features a light-colored, natural design with pops of vibrant colors and whimsical shapes of various sizes. This design encourages a diverse range of experiences, with multiple levels of challenge for different ages and abilities, variously-sized bookshelves, child-sized tables and chairs, soft seating, reading nooks, and showcase displays.
---
Public Library
The school's primary library features a large skylight that floods the space with natural daylight, creating a bright and inviting atmosphere. The library is designed to cater to learners of different ages and abilities, offering bookshelves of various heights, child-sized tables and chairs, soft seating, and a showcase display. The library's inclusive and collaborative learning environment is enhanced by acoustic, natural materials and neutral colours that provide a calm setting for focused study. The space also includes natural finishes with sound-absorbing materials, combined with colourful elements, to create a safe and welcoming atmosphere where learners can thrive.
---
Workshop spaces
Citizens School also features an Innovation lab, content studios, and other spaces that host training sessions and workshops. According to Dr. Adil Alzarooni, the school is a recreational area that brings parents and learners together to learn from various fields, such as business, advertising, retail, transportation, food and beverage, philanthropy, as well as arts and culture. By building meaningful connections with these industries and future entrepreneurs, the school aims to benefit not only its learners but also the wider community. Through a shared learning platform, the school hopes to become a focal point for collaborative education. The building also includes several meeting spaces where teachers can collaborate or work independently, depending on their needs.
---
The Future Framework
The school uses the British curriculum as a framework and further enhances it with a custom- built future framework which has evolved into its very own Citizens Future Framework.

"Our curriculum development is agile, future-proof and ready to give every child the right foundation to explore and be the best that they can be," Dr. Adil Alzarooni said.
The Citizens Future Framework comprises of three main pillars:
1. Entrepreneurship education: It equips learners with the skills to handle entrepreneurship and the process of developing ventures, including team building, problem identification, and diversification so when they enter the practical field they can handle its challenges successfully.
2. Quality of life and well-being: The school believes that it is very important to educate learners to be more aware of their mental and physical well-being and how to gauge their quality of life. This involves exposing them to various experiences and helping them identify what brings them satisfaction and happiness. The school recognizes that a child's overall wellbeing is crucial to their success and seeks to provide a supportive environment that promotes good mental health and emotional wellbeing for all its learners. Dr. Adil Alzarooni noted that they "recognize the need to not only strengthen our children's physical health but also nurture their mental health, which plays a crucial role in a child's overall wellbeing."
3. Early intervention and special education needs: The school has a diagnostic and intervention system that can identify and attend to any minor special education needs of learners in a normal classroom or school setting. This involves considering design elements such as color selection, lighting, and furniture.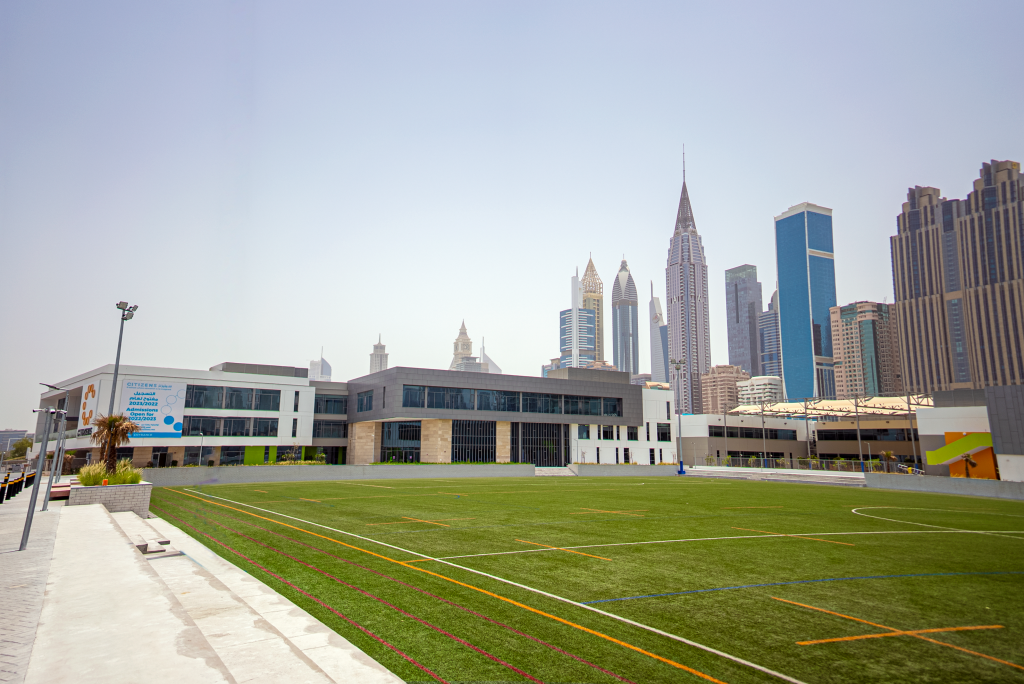 ---
Diagnostic and Intervention Centre
Citizens School values the unique needs of each of its learners. In its diagnostic and intervention centre, it collaborates with a range of specialists to meet those needs of its learners. This includes working in partnership with communication and language therapists, behaviour specialists, occupational therapists, educational psychologists, and clinical experts to guide and support learners on their individual journeys.

The school believes that progress is not limited to academic goals but extends to the holistic development of each child, including their social, emotional, and physical well-being. The commitment to ongoing professional development extends to all staff, not just academic mentors, to enhance their understanding of individual needs and create an enabling environment for all learners.
The school believes in an enabling environment which celebrates individual needs and supports each child's unique journey. The learning environments at The Citizens School are highly personalized and designed to align with learners' interests and areas for development. This looks different in each setting and evolves as the cohort develops and progress. For example, lower Key Stage One settings have supported transition and large number of learners returning to school post pandemic by developing areas of provision which have been refined over the course of the academic year.
---
Sustainability – A Core Value
As part of the Citizens Future Framework, Citizens School places a strong emphasis on sustainable leadership. This core pillar is integrated into the school's curriculum, beginning from Year One and continuing through all levels of education.

The school's faculty has created a unique curriculum that encompasses six overarching categories, which align with the United Nations' Sustainable Development Goals. These categories include life on land, water, water everywhere, zero hunger, clean technologies, responsible consumption and production, and climate action.
To support these categories, the school has constructed two greenhouses with herb gardens, which serve as an interactive educational tool for learners. The greenhouses aim to raise awareness about the origin of food and promote the importance of wellness and healthy eating habits. Learners learn about different vertical farming techniques that can contribute to ensuring food security for future generations.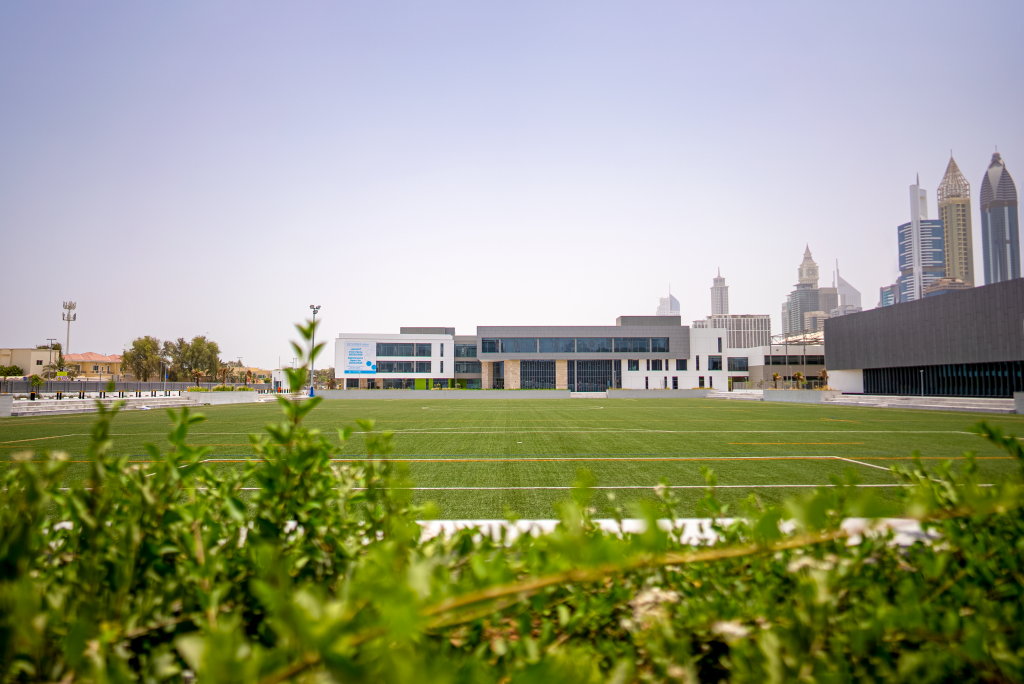 The school is committed to sustainability and environmental responsibility. To this end, it has installed numerous water filling stations throughout the campus, encouraging learners to refill their water bottles and reducing the use of single-use plastic bottles.

The school's buildings are designed with high levels of insulation, which minimize energy usage and maximize efficiency. Learners are reminded to switch off lights and air conditioning units when leaving a room, and the classrooms feature large windows that facilitate natural light, promoting a positive learning environment.
Currently, Phase One of the project has been completed, which includes the foundation stage, primary school, sports complex, and nursery. In phase two of the project, a secondary school for the learners will be developed on the same plot.
Once the school reaches full capacity, there will be a designated well-being function located within a section of the building. This will cater to children who require assessments in specific areas of their learning, and they will be able to transition between the diagnostic and teaching areas seamlessly. The school is committed to being an inclusive educational provider that serves and supports the local community. Beyond regular school hours, their Citizens' Wellbeing Centre will continue to offer top-notch support for families and individuals, promoting their overall well-being and quality of life.
April 2023