"I have never let my schooling interfere with my education." This aphorism (usually attributed to Mark Twain, though historians believe writer Grant Allen was the author) is often used to illustrate how life experience can be the most effective educator. 
And Allen (or Twain) is not wrong; a quality education extends far beyond the confines of the traditional classroom. While academic knowledge forms the foundation, it is extracurricular activities that enrich a child's education and shape their holistic development. These activities offer invaluable opportunities for children to explore their interests, cultivate new skills, foster creativity, build character, and increase their understanding of the wider world.
In Dubai, a city known for its vibrant culture and diversity, there is no shortage of spaces where children can engage in a wide range of after-school activities. From museums to wildlife parks and marine centers, Dubai offers a plethora of opportunities for parents and schools to spark a child's curiosity.
EdDesign Mag collected an extra-curricular guide for school teams with useful contacts. 
---
Exploring the World's Wildlife
For those anxious to incorporate more wildlife into their 'tame' classrooms, schools are invited to reach out to the Dubai Safari Park Education Unit: info.dubaisafaripark@dm.gov.ae or 04-7772048.
Dubai Safari Park goes beyond a typical wildlife sanctuary, serving serves as an educational hub for children. Spanning over 119 hectares, Dubai Safari Park is home to a wide array of animals, including lions, giraffes, zebras, elephants, and an overwhelming number of iguanas (eagle-eyed patrons might even spot of few of these curious reptiles on fences and hiding under bushes).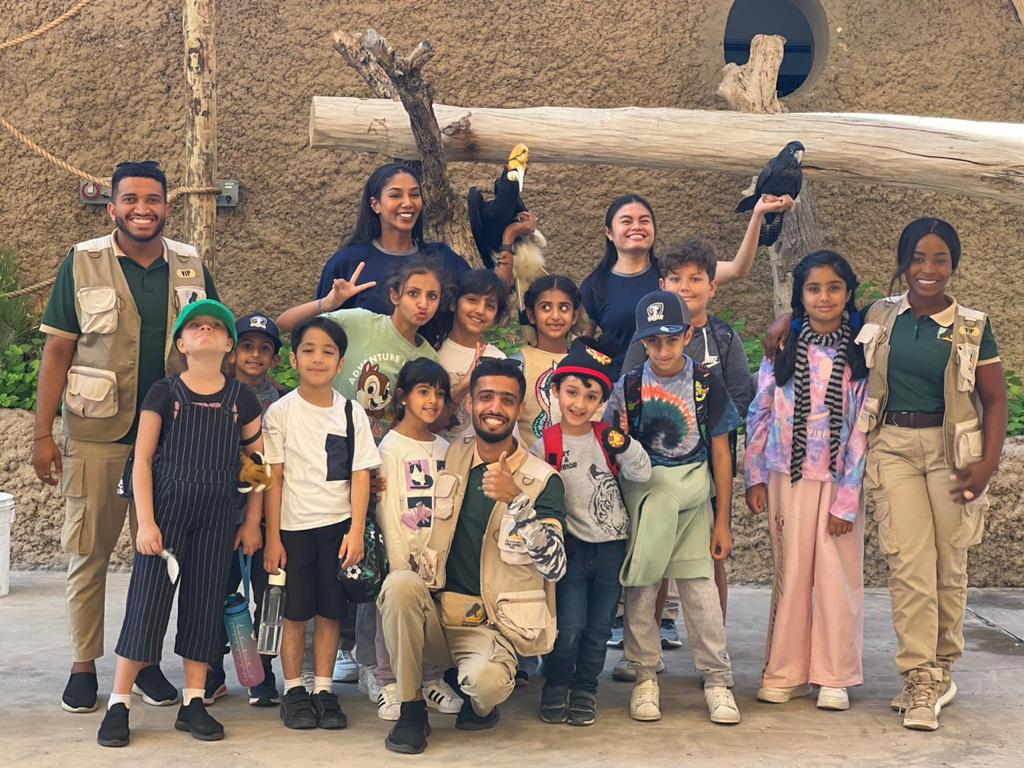 Photo: Dubai Safari Park
During weekends and evenings, the park hosts various education and conservation activities catering to children of all ages. While education programs are usually self-guided tours, workshops are led by highly trained, dedicated Education Guides and Zoo Educators who deliver information on animals, conservation, and sustainability to participants. These activities aim to foster a deep appreciation for wildlife, conservation, and the importance of biodiversity.

One of the highlights of Dubai Safari Park's educational programs is the opportunity for children to engage in enrichment activities for the park's wildlife residents. Students gain insight into animal behavior and environmental enrichment techniques while the animals gain crucial exercise and mental stimulation. During these workshops, children participate in arts and crafts activities to produce hiding places for treats and toys.
Dubai Safari Park often collaborates with local schools, offering both education packages and outreach programs. Each day the park receives several school groups, generally between 30-50 students, though with advance notice, specialty workshops can be developed, presenting students with the chance to interact with certain animals, learn more about wildlife habitats and behaviors, and even create fun enrichment activities for the park's residents. 
At times, Dubai Safari Park educators have visited special needs schools, bringing along a friendly parrot (or possibly a calm snake) for students. These interactive learning opportunities engage young people, providing a memorable experience that allows students to safely see, touch and appreciate the natural world. "Our outreach program allows us to collaborate with a school club that aligns with our park's educational vision and mission. We can offer a lot of value to the school clubs that can support their club objectives," says Marsenia Harris, a Dubai Safari Park Education Conservationist.
Photo: Dubai Safari Park
Dubai Safari Park utilizes a curriculum based on the UAE Ministry of Education (MOE) standards, enabling their educational workshops and outreach programs to work seamlessly with regional schools.
Additionally, the park conducts conservation and outreach programs in collaboration with local schools and universities. These initiatives discuss the necessary role of zoos and wildlife reserves in maintaining biodiversity and conservation efforts. 
Partnering with Dubai Safari Park opens doors for schools to provide students with unique experiences that blend education, conservation, and wildlife observation. Field trips to the park help students learn about Dubai's deserts and local ecosystems while also engaging with animal safety and wildlife awareness. Through the natural beauty and diversity of wildlife, children can develop a sense of responsibility towards the environment, learning how our individual actions can make a difference.
Harris notes that "For special workshops, the price will depend on the requirements of the school. However, if there are in-house workshops being conducted at the park during the visit, students can participate for free." Outreach programs are also usually free of charge unless specialty workshops are required. 
Photo: Dubai Safari Park
While there is an entrance fee for schools, this generally depends on the package.  Though the average cost for school students under 12 years old is 20AED for Park Entrance Tickets and 30AED for Safari Journey Tickets. 
However, the learning doesn't have to stop at the Zoo gates, "We can provide worksheets for teachers for their visit to Dubai Safari Park on the Education Package, as well as curriculum-based worksheets for the teachers to incorporate into their classrooms," Harris reports. 
---
Expand The Mind
When booking a school group or event, contact the Museum of Illusions manager: barbara@museumofillusions.ae.
Located in the historical district of Al Seef, Dubai, The Museum of Illusions is an intriguing destination designed to challenge the brain and the eye. This interactive museum is dedicated to the art of optical illusions, allowing visitors to delve into the fascinating world of perception, physics, geometry, and wild mirrors. School groups are welcomed, providing students with the chance to learn about the science behind these clever illusions. The museum features a variety of mind-bending exhibits, including rooms that defy gravity, holograms that seemingly come to life, and puzzles that tease the brain.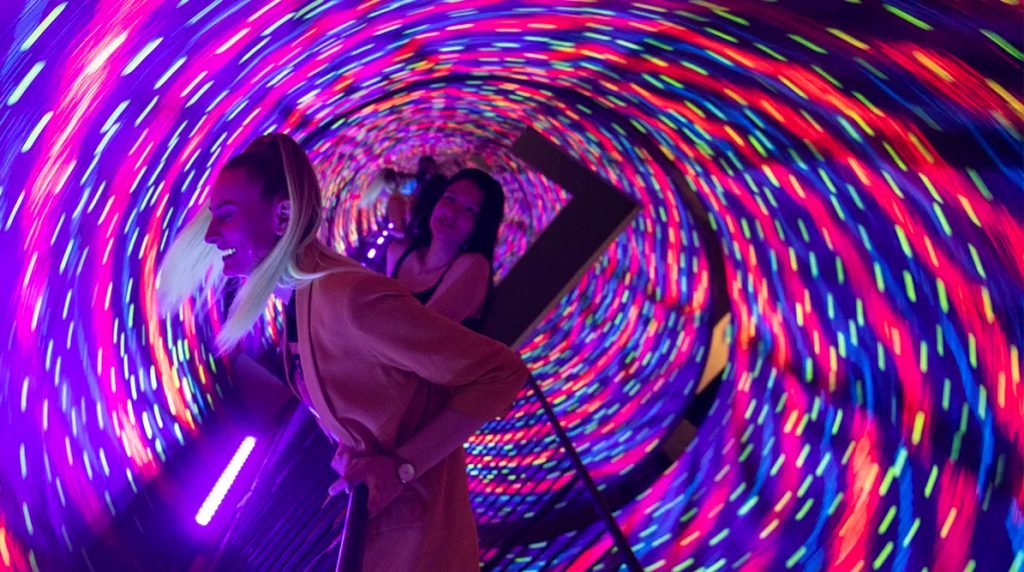 Photo: The Museum of Illusions 
Visiting the Museum of Illusions is not just about experiencing visual trickery; it also promotes critical thinking and scientific inquiry. Students develop a deeper understanding of how our brains perceive and interpret the world around us by engaging with the exhibits. 

For young people, it's essential that they are encouraged to question their assumptions, test perceptions, and think analytically. In addition to self-guided tours, the museum also offers guided educational programs that further enhance the learning experience for students. Collaborating with the Museum of Illusions allows schools to organize field trips that captivate students and promote intellectual curiosity and creative problem-solving skills.
Photo: The Museum of Illusions 
---
Under the Sea
For those who are ready to schedule a conservation workshop or larger school group activity, reach out to Chloe Griffin at Godive@chloebluescubadiving.com
Dubai's coastal location presents a unique opportunity to educate children about marine life and conservation. Chloe Blue Divers in Jebel Ali offers programs that enable young people to explore the wonders of the Persian Gulf and the Gulf of Oman while promoting responsible and eco-friendly diving practices. The warm waters surrounding Dubai are rich with plant and animal life, making it an ideal environment for children to learn about marine ecosystems.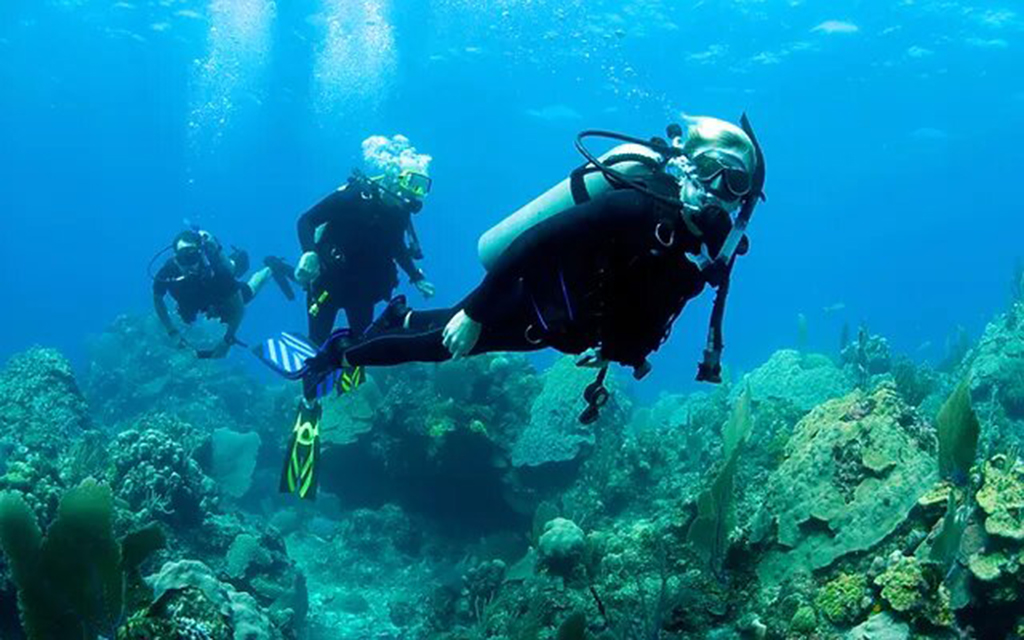 Photo: Chloe Blue Divers in Jebel Ali
Chloe Blue Divers conducts marine conservation workshops to foster an understanding of responsible sustainability. These workshops provide an interactive platform for children to engage in beach clean-ups, learn about marine life and its conservation, and even acquire scuba diving and snorkeling skills. Covering marine pollution, and the importance of coral reefs, these workshops highlight the significance of protecting endangered species. 
In these times of climate change, cultivating a sense of stewardship toward the ocean's preservation is vital.
Photo: Chloe Blue Divers in Jebel Ali
Divers (even eight-year-old Bubblemakers) can enjoy some of the world's most vibrant marine life in the UAE's salty, warm waters: Tiny Nudibranches, spotted Stingrays, Colorful Clownfish, and of course, the terrifying (but exciting) Moray Eels. With the opportunity to observe marine organisms up close and understand the fragile balance of marine ecosystems, children become motivated to conserve the oceans for future generations.
---
A Flexible Activity
To make a booking or visit the Sharm Circus School, contact them at 058-883-1921
For those students who have an innate love for athletics (and maybe need a healthy physical outlet), the Sharm Circus School Dubai stands out as a haven for circus enthusiasts. Founded by Erika Possetto, an Italian former gymnast and professional aerialist, this circus school brings the magic of the circus to Dubai's children.
Photo: fedec.eu, Sharm Circus School Dubai
The school offers a wide range of circus disciplines for both adults and children. Students have the opportunity to master some of the most exciting skills possible: trapeze, aerial hoop, aerial hammocks, acrobatic gymnastics, tumbling, trampoline, fire dance, juggling, ribbon dance, hula hoop dance, and twirling. 

One of the highlights of the Sharm Circus School is its summer camp, which offers children from 4 to 13 years old a truly unforgettable experience. During the camp, children have the opportunity to immerse themselves in the world of the circus and explore various circus disciplines in a play mode. The camp provides a diverse range of activities that engage children both physically and creatively.
The camp is designed to spark the imagination, boost self-confidence, and promote teamwork among participants. With small group sizes, each child receives individual attention and guidance from the coaches, allowing them to progress at their own pace.
In addition to the summer camp, the Sharm Circus School offers ongoing courses throughout the year. These courses are divided into seven levels, allowing students to progress gradually as they master the exercises required at each level. The school is recognized by FEDEC (European Circus Schools Federation), emphasizing its dedication to maintaining high standards.
---
A Rainforest in the Desert
Make sure to reach out early to The Green Planet when scheduling a group visit or a school field trip. The best way to contact this busy location is via their general phone line at 800-7699 or info@thegreenplanetdubai.com
In alignment with the Ministry of Education's focus on climate action and conservation, Dubai is home to The Green Planet, an impressive biodome showcasing the rainforest's rich biodiversity. With its towering trees, cascading waterfalls, and diverse array of flora and fauna, The Green Planet offers visitors and students an immersive experience that brings the rainforest to life.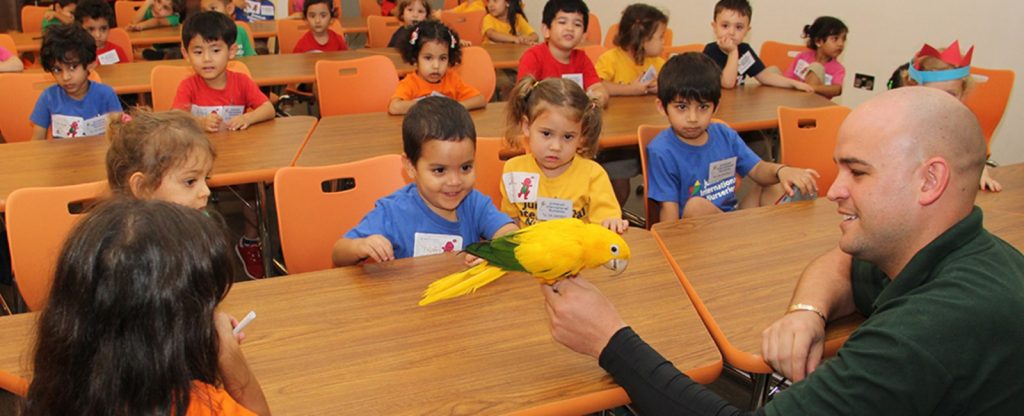 Photo: The Green Planet
As part of their collaborations with schools throughout the UAE, The Green Planet provides students with unique educational programs. One such program is the Eco-Go initiative, which focuses on teaching students about conservation and sustainability. Through engaging activities and interactive presentations, students learn about the importance of protecting natural resources and the impact of human activities on the environment. 
Another program offered by The Green Planet is the Rainforest Relationships program. This program explores the complex interactions between different species within the rainforest ecosystem. Students learn about symbiotic relationships, such as pollination and seed dispersal, and how they contribute to the survival of various plant and animal species. By studying the intricacies of these relationships, students gain insights into the delicate balance of nature and the importance of biodiversity.
Photo: The Green Planet
Collaborating with The Green Planet enables schools to effectively integrate climate action and conservation into their curriculums. Field trips to The Green Planet allow students to witness the wonders of the rainforest firsthand, observe its diverse inhabitants, and gain a deeper understanding of the interconnectedness of ecosystems.

As learning goes beyond the classroom, students explore themselves and the world around them. And the extra is not extra; it is an essential part of a child's educational journey. Through these remarkable activities, Dubai paves the way for a well-rounded and enriching educational experience that prepares children to become informed global citizens and stewards of the environment.
September 2023