PROJECT INVESTOR: Yerkin Tatishev, Co-Founder and Chairman of Kusto Group, an industrial and investment holding
ADDRESS: Almaty, Koktobe, 150 Sagadata Nurmagambetova St.
PHOTO: Aruzhan Akhylbekova
INVESTMENT AMOUNT: $ 25 mln / ₸ 10 bln
AREA: 20,000 m²
CAPACITY: 600 schoolchildren
ARCHITECTURAL CONCEPT: Jani Ristimäki
LAUNCH DATE: November 2020
GENERAL DESIGNER: Parviainen arkkitehdit
High Tech Academy is a private school in Almaty where Finnish and American methods of education blend organically. It is where children are prepared not to take standard exams, but to solve problems arising in real world.
---
We wanted something different
Businessman Yerkin Tatishev and future Headmistress of High Tech Academy Tatyana Magambetova met, because their daughters were classmates in Haileybury Almaty, a school operating in accordance with the British standards. "Our children went to the best school in the country; it was quite expensive, exclusive. But we realized that it was not the education we wanted for our children. We started talking on the subject, and one day Yerkin called me and said: "I want to found a school. Let's think what it might be like," Tatyana says.
The partners studied the global experience, visited schools in Europe, Singapore, and US. The Finnish approach with a great focus on children's physical and emotional safety, and establishment of a comfortable environment for their development looked appealing. In San Diego, California, Yerkin and Tatyana were introduced to the project-based method in the High Tech High School. There, this method is used to develop the skills, the degree of knowledge and positive academic thinking at the same time. However, it was obvious that none of the systems could be possibly transferred to Kazakhstan.

"The High Tech Academy is based on the Finnish method in the primary school and the American one — in the secondary and senior school. The main idea is to teach something to such a deep level that this knowledge could be applied in another context. Our priority is to prepare children for real life," Tatyana says.
---
How the School Was Designed
The High Tech Academy started operating in 2017 in the leased premises. The design was invented by Parviainen arkkitehdit, a company from Finland, and Finnish furniture ISKU was bought for classes. Meanwhile, since the first days, when the school was attended by 70 schoolchildren only, the founders planned to construct their own building. The place for construction was located by the main business investor. The investment holding company was erecting an apartment building complex in Koktobe, and there was a free area nearby. As the location of Koktobe is slightly mounting, it's windy here, and the air is much clearer than in the city. Besides, it takes about five minutes to get to the center of the city.
Photo: Aruzhan Akhylbekova
The Design Guide of a new school was worked out by David Steven, one of the authors that had designed projects for five High Tech High Schools. HTA creators made a request for commercial proposal from Finnish and American architects. The Finns offered a better option in terms of a value for money factor. As a result, that very company, Parviainen arkkitehdit (Finland) was invited to design the school based on the Design Guide, as it had been creating buildings for educational establishments for over 20 years.
Another participant of the construction process is the local Kazgor Project Academy. The building can be designed for construction in Kazakhstan by any country of the world. However, in accordance with the law, the project shall be subject to the so-called mandatory adaptation to be allowed for construction. Tatyana remembers the adaptation period as a nightmare: there was a need to walk a delicate line between modern educational needs and SNiPs (construction rules and regulations) that had not been updated since 1964. Ultimately, the Finnish project was considered safe and the school received necessary permissions.
Tatyana Magambetova: "Few people know that my dream was a fully wooden school. Such a school for 800 pupils was built in Finland several years ago. I managed to visit it two months before the opening. Unfortunately, the Kazakhstan SNiPs and other requirements did not allow us bringing something like that into life."
---
The School Inside
The entrance area is equipped with a facial recognition system. There is a reception desk where visitors can get all the necessary information. There are six exits in school, but in the morning all the pupils go through the same doors — the central entrance. During the day they use different ones.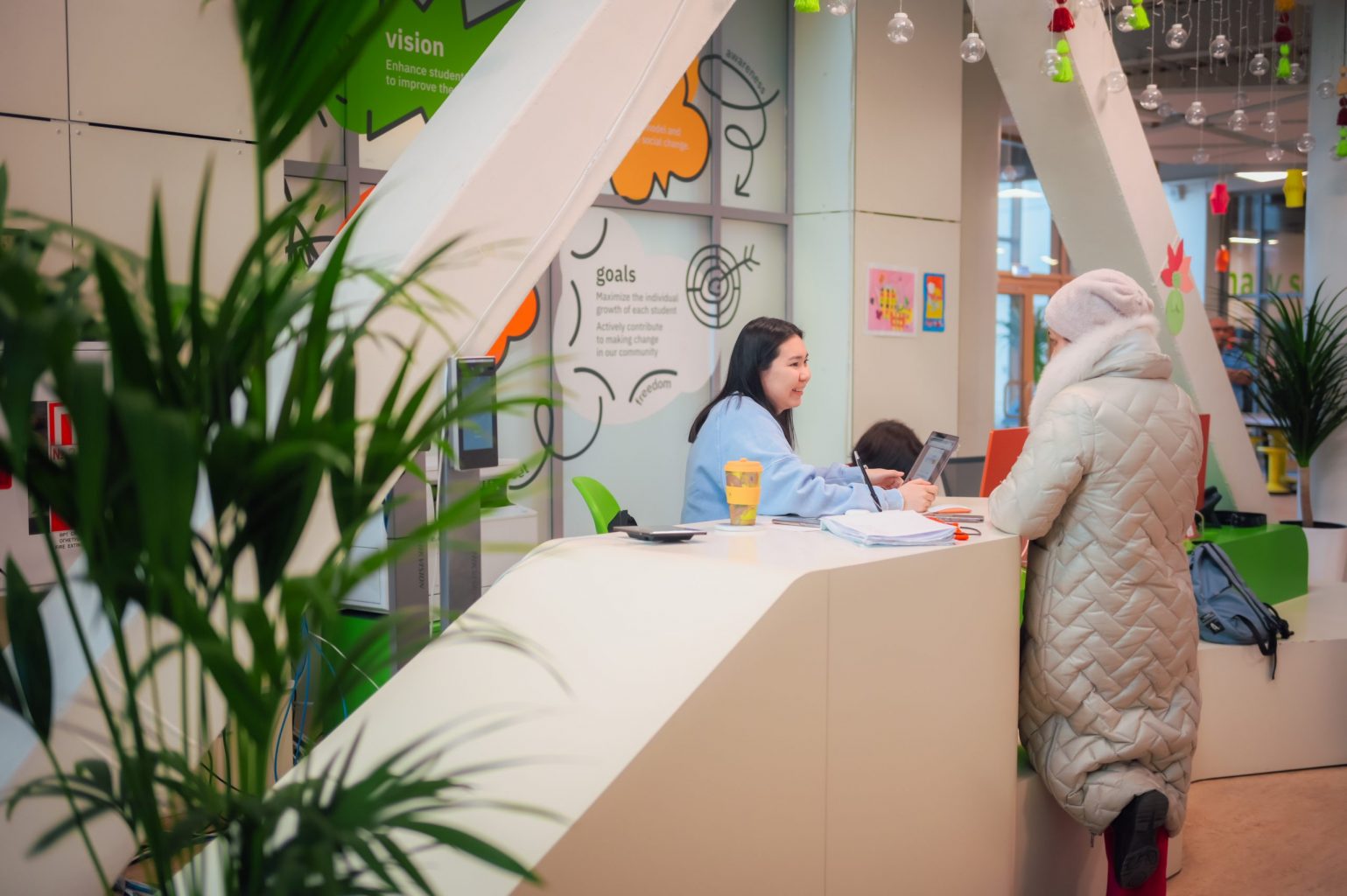 Photo: Aruzhan Akhylbekova
The visitors also get into the school through the Central Entrance. There is a strict security system installed: guests are noted in a common Google Calendar in advance. During their visit they wear red badges, and there are about 500 video cameras installed on the territory.

The school building consists of five units: a pre-school, a primary school, a secondary school, a senior school, a Budokan Sport and Art Center. They are united with a spacious atrium. The entrances to the academic units are located within 10–15 meters from each other. There are locker areas, clothes rail, and shoe racks in each unit. It is allowed to go in just socks inside; the space inside was designed specifically for such an opportunity, as per the shoe-free method common for schools in Finland.
The units are built the same way, but equipped differently based on their functions. There is a light tube inside each unit to make the lighting as natural as possible. In the primary school, there are hammocks and trampolines within each light tube. There are light poufs to be used as building cubes in the lounges. In each classroom, there us a carpet, an area to lie, and many toys. To get to the canteen quickly, pupils of the 2nd and the 3rd grades can just slide down.
Photo: Aruzhan Akhylbekova
The units of secondary and senior school house all the specialized classrooms — from laboratories for Chemistry and Physics to the Cooking Studio, an art space and music halls. Here is also a FabLab with 3D printers, devices to cut various materials, the woodwork equipment, construction kits and radio electronics.
Photo: Aruzhan Akhylbekova
The academic units are united with a shared space — an atrium. Every day it serves as a canteen, where schoolchildren meet thrice a day. The tables are adapted for visitors of various heights. There are places for little kids, a space with common tables and an area designed as a bar. All the furniture, including roller catering one, can be easily taken away. Thus, the atrium is turned into a place for a concert or another event.
Atrium, Photo: Aruzhan Akhylbekova
The menu of the High Tech Academy is prepared by FG Company that has been a partner of other international schools for 15 years already. It is renewed and approved twice a year. As a result, the needs of all the pupils are met — including vegans and those that adhere to special diets due for medical reasons. In the canteen there are areas with salads, fresh vegetables and fruits, an area with drinks and bread, as well as two serveries with hot meals.
---
A Gym for Discos and a Youth Club as a Community Center
The pupils were actively engaged in the process of space design. When the foundation was laid, all the kids visited the site and then they were divided into five groups and invited to give their solutions for five different areas: a gym, a playground, a library for seniors, a theater, and a planetarium.
Due to the kids the gym received a glass floor. Its operational life is 70 years, and depreciation is less compared to wood. The ASB GlassFloor technology was designed by German engineers. There are their own marks for all sports. Even discos can be held in the gym.
The gym glass floor with an ASB GlassFloor technology, Photo: Aruzhan Akhylbekova
It is the pupils themselves that suggested designing the library for seniors as a Starbucks coffee shop. Everybody gets their book registered themselves: the reporting system is fully automated, one just need to put a barcode to the special device. If one wants, they can use the installed tabled computers for work.
Photo: Aruzhan Akhylbekova
The children's library is designed for pupils of the first to six grades. There are stacks of books to read in the break. A staircase leads to the mezzanine with puffs and hammocks. There is an area with desks and chairs to hold classes.
The Budokan Sport and Art Center is a special unit. "We, kids of the Soviet Union, remember what a cool place it was — a Youth Club (Pioneer House). That was where could do anything: swimming, aeromodelling and playing chess on our way," Tatyana says. Budokan is a mix of a 'Pioneer House' and a Community Center. The idea was picked up by School executives in Finland. When the classes are over, Budokan opens its doors for all the volunteers.
Photo: Aruzhan Akhylbekova
Upon the founders, school toilets were made individual, though the local architects initially suggested a conventional option: an area with basins and a row of cabins. It is much more comfortable to use individual toilets; besides, there are less places for bullying with such a location.
---
High Tech Ecology
All the materials used for construction of the school are as environmentally friendly as possible. The suspended ceilings are made of wooden sawdust, and the covering of the floor which looks like linoleum is made of natural viscose. Daylight comes through light tubes and large windows. Electricity is saved due to warm water floors heated by gas. There was also an idea to install solar panels on the roof, but it did not pass the test of controlling bodies.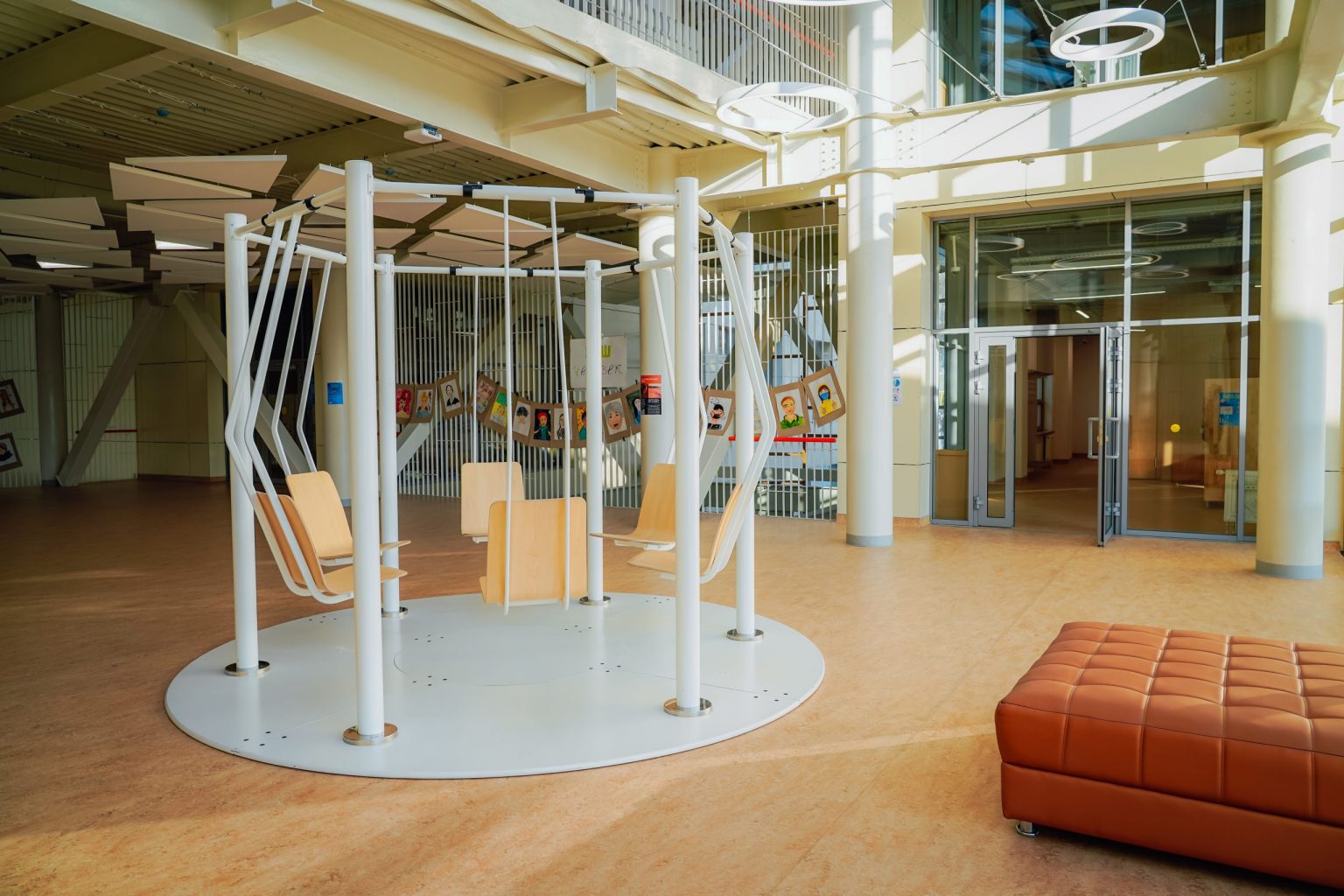 Photo: Aruzhan Akhylbekova

Ecological projects are mandatory for the curriculum. Once a year a child aged 5–6 to 18 suggests their ways to solve environmental problems. Thus, younger children invent a way to make the school an eco-champion, and the nine-graders are currently looking for creative ways to make air in Almaty more clear.
Children are brought to school by bus. It is also associated with solution of environmental problems and promotes equality of all children.
---
Openness and Equality
Despite a strict security system, the school is open for guests. Parents are often invited to the concerts and events, while, just like any other external visitors, they have to confirm their visit in advance and get their badges. Instead of a PTA meetings in the end of each term, so-called presentations of learning are held individually. During half an hour a child talk, their parents and tutors or advisors talk about things the child has reached over the last couple of months and things to make differently, and the goals they set for the next period of time.

Education is arranged in three languages: English, Kazakh, and Russian with English as a major one. There are 95 teachers in the school, including 15 foreigners. There are no entrance examinations as such. There is just a meeting with parents and a talk with a child. The applicants for 6–11 grades have to take a test to confirm their level of knowledge of English before the interview. In the pre-school and the primary school the classes are held in the form of play-based learning, so kids don't find it difficult to understand the language.
The annual cost of learning in the High Tech Academy is $12,500. However, 20 % pupils visit the school for free. Out of 550 children studying in 2022–2023, 55 are teachers' kids. And 55 pupils study based on grants. They are provided not to gifted children, but to the children from families with a financially challenging situation provided the parents agree with the methods of learning, and the school really suit the child.
Photo: Aruzhan Akhylbekova
According to Tatyana, the children themselves are not interested in who studies for money and who not. Jeans and T-shirts instead of a school uniform, equal requirements for everyone — these conditions are fundamental for founders.

"The business model has been designed so that the payment of 80 % pupils for studies could cover all the operational costs," Tatyana says. "The Investment component wasn't integral. The school is a social project. The building and its infrastructure are a sort of a gift of co-founders, and then the organization provides for it itself."
February 2023