La Berёzka Academy located in Lucky Residential Complex, the premium-class Moscow quarter, began intaking children from three to six years old for the next academic year. We discussed with the founders how the project works, and why the creators do not like when their academy is called a nursery school, as well as how they plan to develop entrepreneurial skills in children through Charlie and the Chocolate Factory game.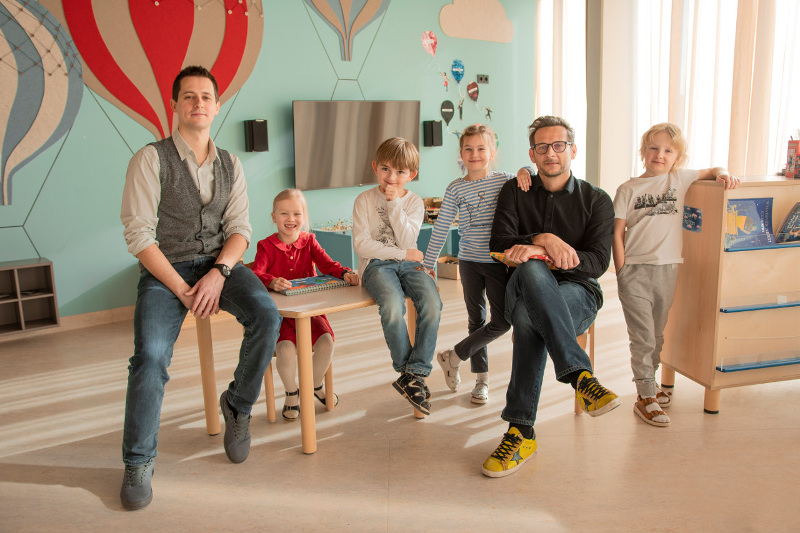 Photo: Alain Roland and Nicolas Fabrice Mathieu in Exupéry International School
---
How it all started
Since 2015, Alain Roland and Nicolas Fabrice Mathieu have worked in Latvia: participated as heads of preschool programs in establishing the international school Exupéry International School. Before Latvia, they worked in Russia on two projects, so when they wanted to do something of their own from the very first brick and draft of the curriculum, they returned to Moscow. It was in 2020.

"When we started looking for a site in Moscow, we considered two districts – on Rublevskoye Highway and in the center, they seemed the most promising. Gradually, the search narrowed down to the Krasnaya Presnya area, and we settled on two options: the City Park Residential Complex and the Lucky Residential Complex. In addition, a building in the Lucky quarter has already been booked by one of the providers. At the same time, we were looking for an investor for the project. The mother of one of the students then introduced us to Ildar Nafikov, the founder of the Heritage International School. As it turned out, he was the one who had booked the building in the Lucky. We talked and saw that we have similar values and views on education. That's when we decided to work together."
At La Berёzkа Academy, the creators sought to combine international standards of education, Russian culture and a high level of service. This vision is reflected in the approach to architecture and design, as well as the academic program.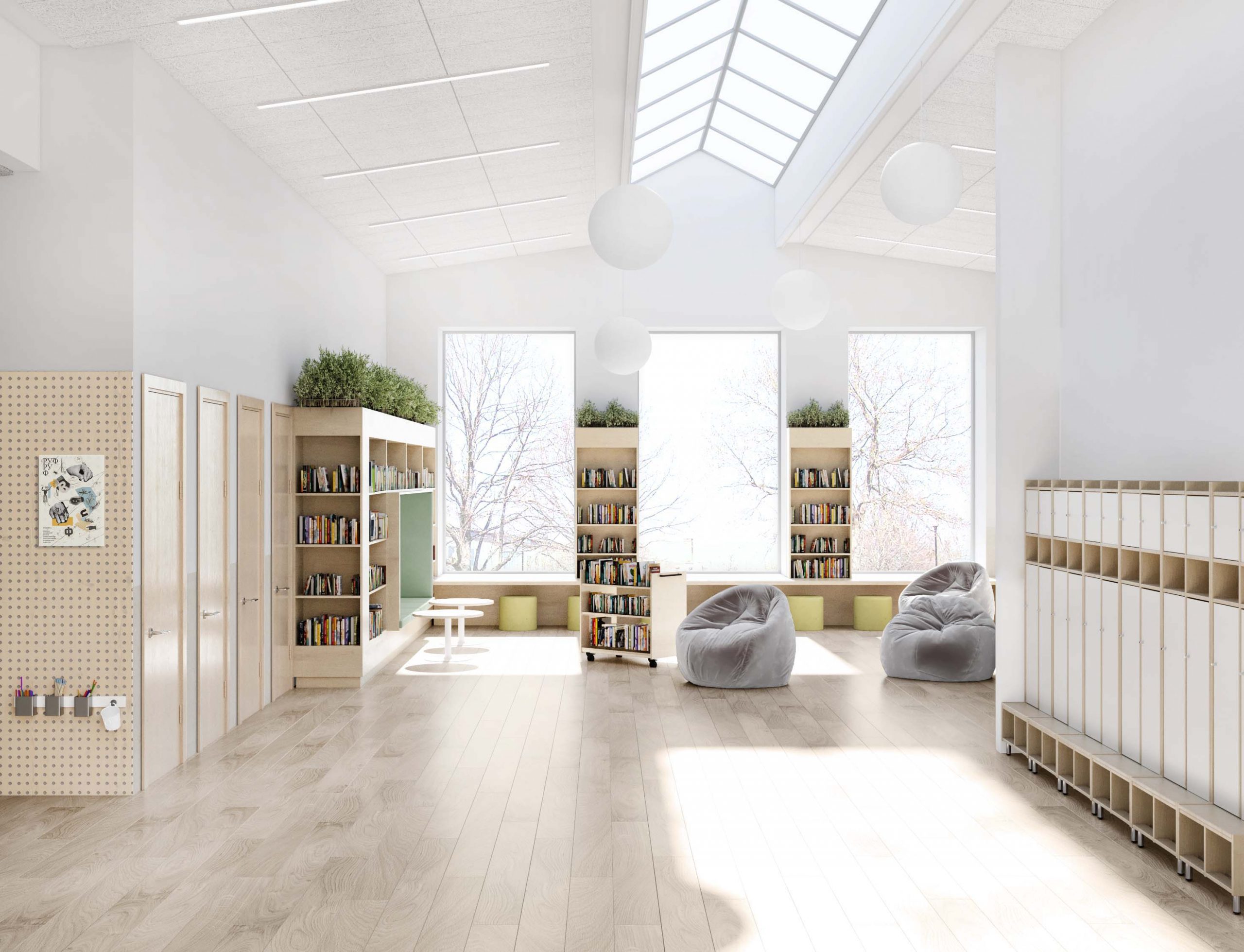 Photo: ED Architecture / La Berёzkа
---
A game is everywhere
"The program is very important. We are sure that every child is capable of amazing discoveries and self-realization if given the opportunity to explore the world around through play," Alain Roland says. "Language learning will be implemented through immersion in history (storytelling). For example, in French classes, children will not just memorize words and expressions, they will play the Three Musketeers, live their roles through the language being studied. Charlie and the Chocolate Factory game by Roald Dahl enables you to develop entrepreneurial thinking, business creation and management skills and immerse in English. And so on."
The program is built on the 4С formula (creativity, critical thinking, collaboration and communication). These skills, according to international education experts, are increasingly required every year: "For us to prepare children for their future, for adulthood, means to give them now the skills that will be relevant to them regardless of how the world will change in the next 10, 20, 30 years."
The creators are jealous for their concept. They insist that their institution is an academy, not a nursery school: "In an ordinary nursery school, as a rule, there is no place for the child's individuality, his/her manifestations and feelings. The academy's format allows for a more flexible approach to the system, paying more attention to the needs of children and their development."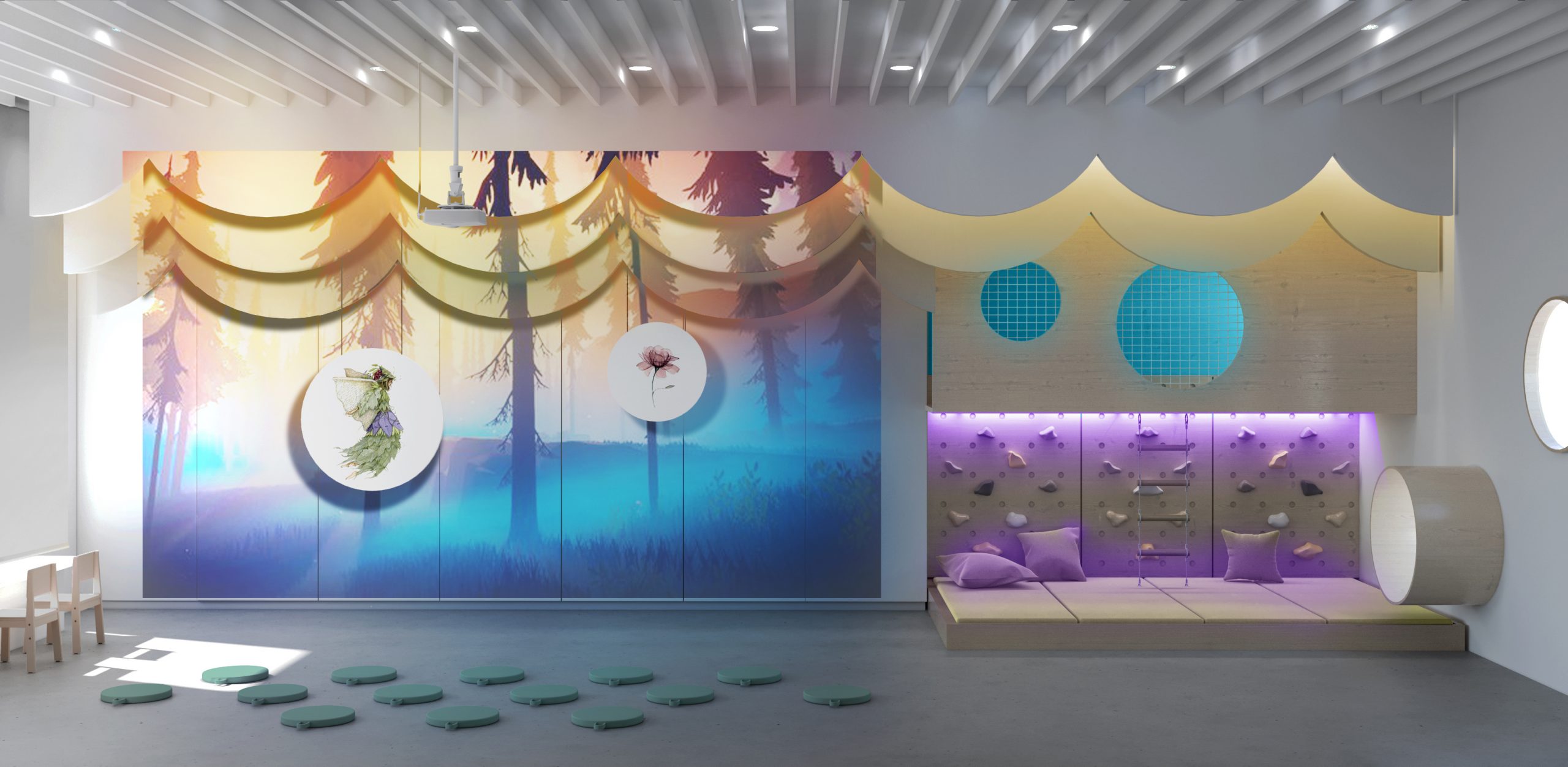 Photo: ED Architecture / La Berёzkа
---
Own floor for each age
There are two floors in the building. The first one is for kids from three to five years old who are just starting to explore the world. This is a comfortable and calm space with a biophilic design (decoration that includes natural elements in the interior: lots of natural lighting, plants, natural colors and naturalistic shapes), soft textures. Teachers and children can create their own stories every day, they can turn a house into a castle or a market, they can play out plots from masterpieces of world literature: by drawing on the walls, using special panels on which it is convenient to attach game elements by moving furniture.
The second floor is urban and modern, it is designed for older children, those who are already more confident and ready to create projects and work together on their implementation.

"The essence of the La Berёzkа project is that we wanted to depart a little from classical British education, which prevails in Moscow international schools, to make it more multicultural and multicomponent: take some things from French, Swiss education, leave something from British, and at the same time highlight the Russian component. The project was originally designed to provide educational services to Russian compatriots abroad, as an opportunity to get a piece of Russian education. We planned to launch the first school in Moscow, and then open campuses in Monaco, Florida, and London. We are still confident that this project has every chance to be successful," Ildar Nafikov, member of the Board of Directors of the Heritage Education Group, an investor of the La Berёzka project says.
---
Interior design
The most important thing that the creators strive to achieve when designing the academy is the absence of the feeling of a standard or nursery school inside the building. In most modern institutions, furniture and walls are bright: green, orange. The Academy deliberately avoids this: "Yes, a child should have bright colors, but why should they be on a chair or a wall?" Mathieu says. "If, for example, a teacher makes color accents in educational materials, it is much more valuable. With calm colors, textures, light, furniture and fragrances, we not only create a calm creative atmosphere, but also help the child to use all the senses, involve him in exploring the world around him."
The lighting intensity and color can change, projectors on the walls and a speaker system in classrooms and halls allow you to turn these spaces into something completely different: a submarine, a spaceship, and even jungle. "When you enter an art class, you get into an art studio in Montmartre, opening the door to a laboratory: to the Moon or to Silicon Valley, where you begin to study robotics, 3D modeling and programming," Roland says. "The Academy has a multifunctional hall where assemblies (meetings), sports events will take place, and a theater studio will work. There are open play areas on the roof."

There is no usual dining room at the Academy. "Instead, we are building a real restaurant in the Open kitchen format, where children can experience new tastes and textures, learn how to cook and create their own masterpieces under the guidance of the Academy's chef. In the decoration, we tried to use natural materials as much as possible: glass, wood, textiles. There is very little plastic."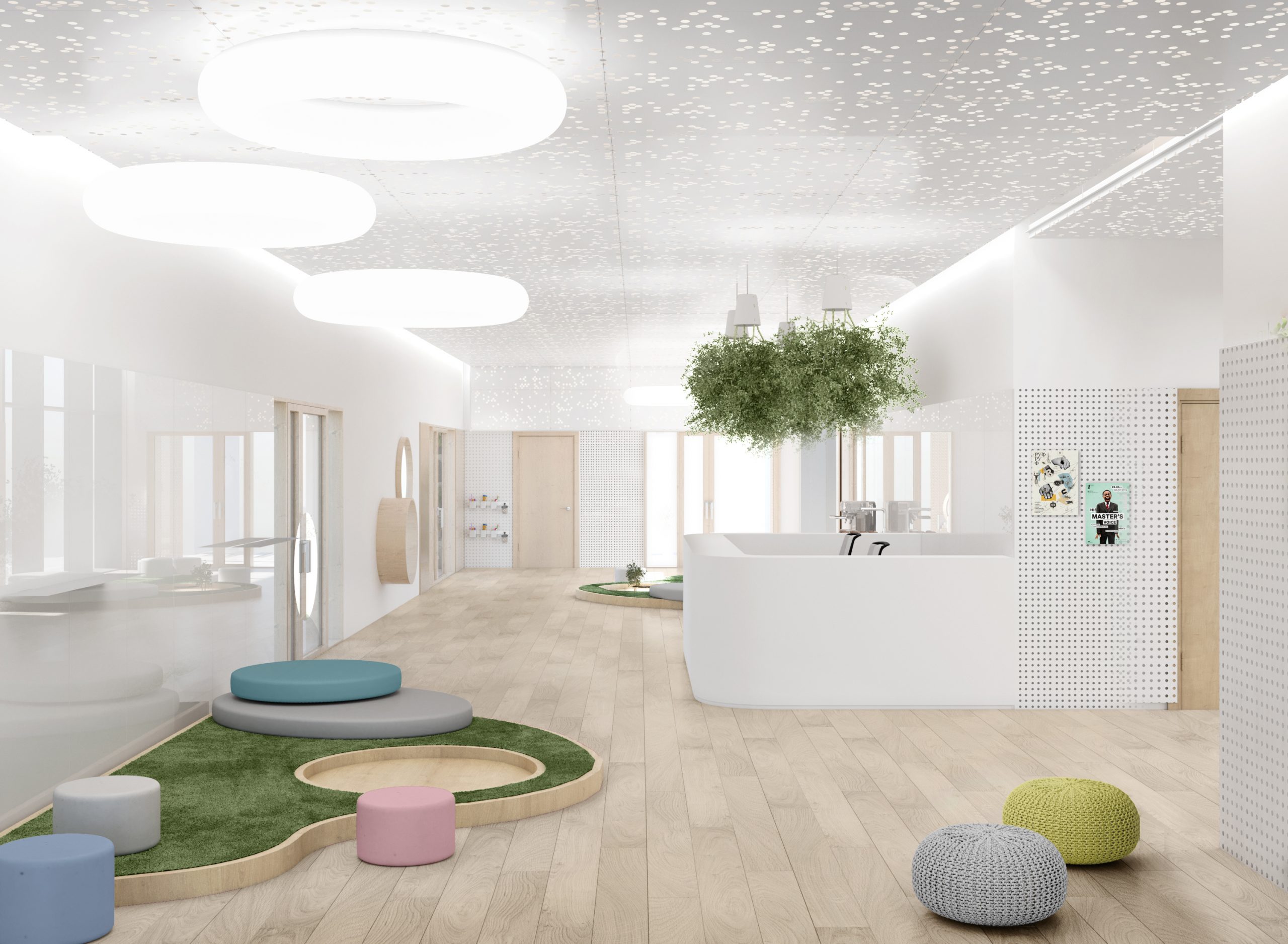 Photo: ED Architecture / La Berёzkа