The day dawns as it does the world over, and so does the morning begins with faint sounds of daily routines, an extended celebration time, or, maybe, an emergency. One can think of these few picturesque moments when we picture 'community life'.
Be it the UN's educational or food initiatives or local government ones of developing countries, there always remain challenges that NGOs and entities in the field face while carrying out projects in such areas, albeit painstakingly. It could range from cultural preferences, language barriers and access to resources as the vital ones. At the same time, on-ground needs vary location-wise, followed by a thorough needs assessment mapping, says Lena Gabdullina, Lead, Acronis Cyber Foundation Program in Singapore, which builds schools in rural areas of Africa, South East Asia and South America.
---
"It is essential to consider a community's specific needs. This requires engaging with the community members and gathering feedback and insights from them," Program Lead Lena G notes as she takes us through the process, adding, "The life of the community changes when a school is built, as it becomes a center of education and learning for the community. The school can provide job opportunities for teachers and staff, creating a sense of pride and ownership among community members."
Photo: Acronis Cyber Foundation 
According to its website, working with non-profit organizations worldwide, the Acronis Cyber Foundation Program's Schools Initiative builds schools that meet each community's unique needs and helps find solutions to the infrastructure challenges that can affect a school's effectiveness. There's no question of doubt that a school for local communities is always more than just a school or just a school building. When asked how Acronis Cyber Foundation Program involves local communities in its projects, Lena G adds that meeting with community members to gather their thoughts and opinions on a particular project is one of the first prerequisites. These meetings, in turn, encourage an open dialogue and active participation from the respective community members.
"Community members, educators, and other stakeholders come together to form a committee that will provide feedback and guidance throughout the project," she adds. Despite following all the above, the challenges involving local communities in projects can extend to a lack of trust or resistance to change. Acronis Cyber Foundation Program's NGO partners are usually involved in the communication with the communities, which aids in building relationships over time.

"It's also crucial to prioritize equity and inclusion in the project design, ensuring that all community members have access to and benefit from the project," she says. Education needs attention in many countries or specific areas/provinces across nations. 
Let's consider some figures on the Acronis Cyber Foundation Program site, which are hard to still believe in the AI (artificial intelligence) chatbot era. It states, "1.1 billion children in the world are between the ages of 6 and 14, while 617 million children are not achieving minimum proficiency levels in reading and mathematics and 258 million children and youth have no access to education." Here are three examples that the Foundation's lead Lena G, lists, having received tremendous responses recently.
---
Creating greater impact through partnerships
Acronis Cyber Foundation Program's favorite way to have the most significant impact is to involve its partners in school construction projects. There are many reasons why it's beneficial for companies to partner up for a good cause. In addition to an increase in resources and thus a broader scope of action, it also strengthens the bond between the companies and is a unique experience for all employees. To give just a few examples of the projects that the Acronis Cyber Foundation Program has done together with the partners:
Photo: Acronis Cyber Foundation, Acronis School in Dominican Republic
Acronis School in the Dominican Republic has a school building with two classrooms and sanitary facilities and provides education to 200 students. This school was built in partnership with Germany-based technology pioneer, RNT Rausch. The Acronis Cyber Foundation Program opened a new school in Rajipur Chaulmala, Nepal, in 2020. The village's previous educational buildings were constructed from brick and mud and faced the severe risk of collapse in this earthquake-prone region. The new school — a modern structure built with cement and steel — has multiple classrooms and sanitary facilities. After building a school in a remote community, we equip it with the computer classroom if the circumstances allow. So,  Acronis Cyber Foundation Program went back to the Rajipur community in 2021 to build a computer classroom with America-based Acronis partner Zebra Systems.
Acronis Cyber Foundation Program opened the Virgen de las Gracias School in Peru in June 2019, bringing an improved scholastic environment to the coastal region. This school was built with sustainability in mind and durable materials that could withstand local seismic activity. And as Phase 2 of the project, Acronis Cyber Foundation Program also built a computer classroom together with America-based Acronis partner Climb Channel Solutions.

"The school can become a hub for community activities and events, bringing people together and fostering social connections. The goal is to create a learning environment that fosters creativity, critical thinking, collaboration, and innovation and prepares students for future challenges," says Program Lead Lena Gabdullina. 
So, how does the Foundation monitor a project, followed by the post-construction work? Acronis Cyber Foundation Program conducts regular meetings with all stakeholders involved and tracks the project's progress by keeping track of the plan, timelines and resources. After the work has been done, the school is usually supported by the local community, the school administration, and the government, says Lena G.
Photo: Acronis Cyber Foundation
"The school administration is responsible for ensuring the school runs smoothly, while the government may provide funding and policy support. Some successful examples of schools thriving and living to their full potential after being built are schools with strong community involvement, supportive school administration, and quality teaching staff. These schools have high attendance rates, improved academic performance, and increased enrollment."

When EdDesign Mag asked the essential criteria of how does Acronis Cyber Foundation Program choose the place for its next school project and what all aspects it includes – the Foundation Lead shared an interesting paradigm to answer this. The decision to select a particular location for an education project can depend on various factors such as the level of need, the availability of resources, government support level, and existing partnerships with NGOs, she says. "We often prioritize remote or marginalized areas because the access to education is limited or non- existent."
---
NGO Partnerships
Acronis Cyber Foundation Program's partnerships with NGOs are crucial in determining the location of upcoming education projects. Being revered as voluntary groups or institutions with a social mission, NGOs may better understand the local context, notes Lena G, as she shares the successful journey with their charity partner, Groundbreaker.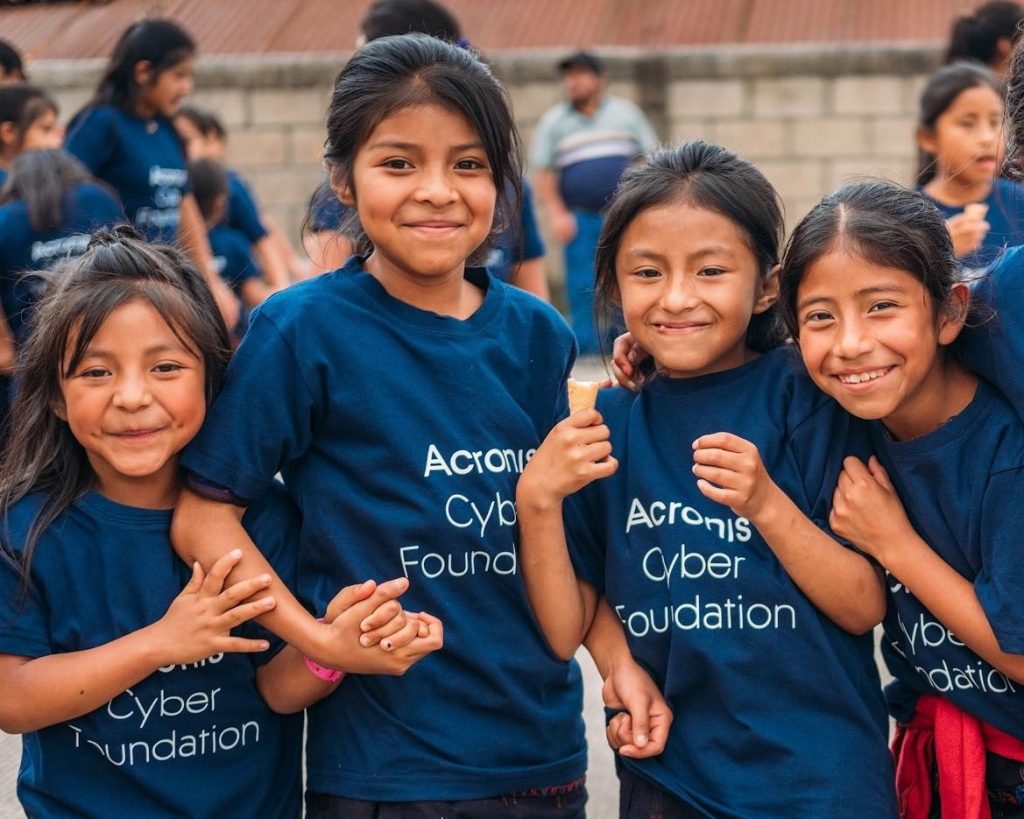 Photo: Acronis Cyber Foundation
"NGOs mostly have established relationships with community members and are in a position to provide additional resources and support to the project. All potential projects must go through a precise, standardized process by our charity partner, Groundbreaker. Identifying potential projects we want to support involves not only analyzing data, but also a qualitative understanding. Our long-term alliance with Groundbreaker has helped build a robust common understanding of our preferences."
It's being noticed that for any new school project, Acronis Cyber Foundation Program plans next, a partnership with some non-profit organization is necessary. So how does the Groundbreaker and Acronis Cyber Foundation Program choose them? Defining their active role in school projects, Lena G says that on-ground work is a critical component that will eventually benefit the communities.

"We work mainly with local, small partner organizations. They can generate the most sustainable impact through their proximity to the communities and how they attempt to solve problems with their access and power in specific areas. Some of the factors that we closely monitor include: the mission and values of the school and the specific project, relevance to the topic of the project, good reputation and known for its work in the community, accessibility and willingness to collaborate openly on the project."
---
Looking Ahead
By counting on its many successful stories, Acronis Cyber Foundation Program continues to build schools and computer classrooms in remote areas globally, where educational infrastructure is the most needed. The Foundation Lead shares that Acronis Cyber Foundation Program also teaches IT skills besides building schools to ex-offenders, seniors, and children in Singapore and migrants and children in Switzerland.
As we all believe, it's about going above and beyond when working in a team, which Acronis Cyber Foundation Program follows through as well. The Foundation's school projects require a diverse group of school administration (education experts, curriculum developers), professional builders (architects, engineers, construction professionals), and governmental support. "The team must have a good understanding of the educational program, design and construction of educational facilities, and the latest technological advancements that can enhance the learning experience," she says, adding that Acronis Cyber Foundation Program oversees the project in general. "Still, we trust and work with the advice given by our NGO partners."
Photo: Acronis Cyber Foundation
Lena G says to mark the Acronis Cyber Foundation Program's fifth anniversary in 2023; it will be expanding its areas of focus to include environmental projects. "In 2023, we plan to expand the IT Skills Program to new regions." She adds that the Program will continue running multiple cyber safety and scam awareness sessions and workshops for people across all age groups in Singapore and Switzerland.

Any project, be it educational or others, nothing is immune to challenges. But Lena G, as the Acronis Cyber Foundation Program's Lead, follows an optimistic approach. "These challenges require careful planning, communication, and a willingness to adapt to unexpected circumstances. Our confidence in each other (Acronis Cyber Foundation Program/Groundbreaker/NGO), shared vision and approach to the issues, and continually exploring ways to collaborate are the keys to success."