'I once heard a parable about a group of men who had turned away religion. There were around 20 of them, and each day they would come together since they were friends. They worked from Monday to Saturday, and decided to gather on Sunday. That day it was raining, and they needed a space. There was a building nearby that used to be a church. They started to gather there on Sundays and thought about doing something that would bring them closer together. They decided to sing a song, and then they decided to have a discussion. First, they would read something and then they'd have a discussion. 'Maybe we need someone who can tell us what the reading means,' they thought. But wait, that's just like religion. This parable does a great job of describing the current situation in education. Instead of trying to do education differently, to make innovations for innovations' sake, we can do it better.' – Niall Brennan
---
Niall Brennan is the Chief Executive Officer of the international private schools group Artemis Education, which he started in 2019 after completing a multi-million-dollar fundraiser to establish the business. The official mission of the group, named after Niall's 7-year-old daughter, is to improve access to outstanding education by bringing the complex vision from designing to operating international schools. Today the group operates Northview International school in Doha, Qatar and is launching The Lisboan school in Portugal in September 2023. We met Niall during the EdEx MENA event and talked about starting schools in such different cultural environments, about investing in the education business, and how he sees schools should be developed after pandemics.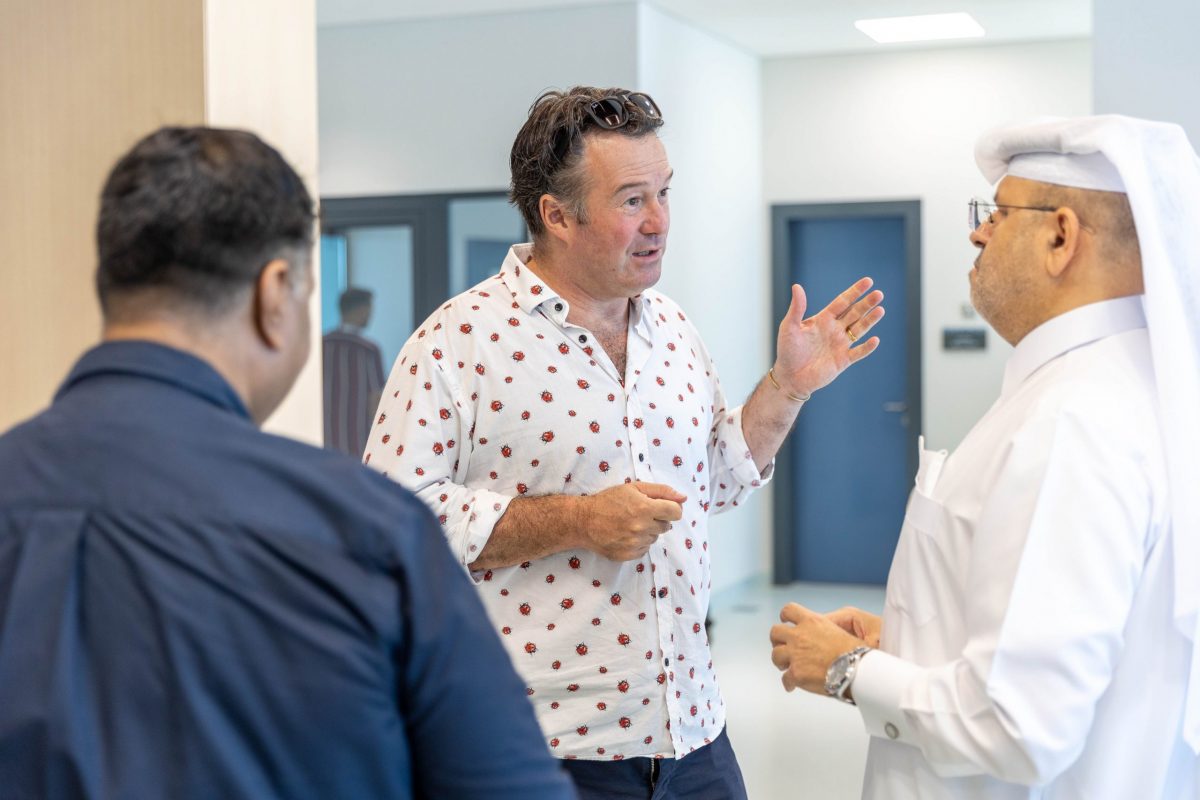 www.absharphotography.com
---
How did you come up with the idea of creating Artemis Education? We know that before Artemis, you were part of the Park House English School and operated the education-centred Saracen group of companies. You have a really long educational journey.
Education has always been very close to home. My mother, Heather Brennan, was a shining light in education for 50 years. She undertook every role in the Park House English School she founded in Qatar in 1994 from classroom teacher to building and owning one of the most successful schools in the region. Eventually, following University and some time outside the sector, I worked with her directly. She was an extraordinary mentor in helping me understand the factors which contribute to a successful school in the long term.
In Europe you can go to a restaurant and the chef will come out and say, 'I cooked that.' In the MENA region – never. It's always just 'the chef.' And in schools, 'the management team,' 'the operators.' When bringing new schools to market, very few people in the business undertake every aspect of that process themselves. At Artemis, we design, deliver, open, and then operate our schools. This core concept allows total oversight and deeper thought, allowing us to build in quality at every stage of the process.
What kind of educational shortfalls are you dedicated to fixing by creating Artemis Education?
We believe in a focus on academic rigour, universal values, individual growth, and multi-faceted development, to enable students to realise their full potential, build resilience and become responsible citizens of the world. Education departments around the world believe that standardisation will raise the collective level. We think that it accomplishes the exact opposite. We care for each school's and child's personal identity and celebrate their individuality.
That's a very important comment, soon you'll be operating two schools in very different cultural environments. What curricula have you chosen for the schools?
Common sense dictates that we should be sensitive to the cultural environments in which we operate. We incorporate the curricula requirements in each country, and we fundamentally believe in integration with the local community, and that the school should serve as a centre for that community.
We are geographically agnostic and deliver internationally accredited curricula enriched by dynamic extracurricular experience, so despite different cultural environments, the core of the Artemis approach remains the same. Our students graduate as expressive, self-confident, and critically minded individuals, with a solid foundation to flourish in higher education or life.
Photo by Artemis Education 
Northview International has a cutting-edge campus, designed around the way the students learn, blending technology with intelligent design. Artemis Education delivers a carbon-neutral facility and is also working towards a carbon-positive education, by eliminating and offsetting environmental impact with accredited natural offsets. The school's flexible learning environments inspire reflection, deeper thinking, conversations, and inquiries, and also satisfy curiosity and answer the many questions that children have.
What's the story behind the Portuguese school?
Lisbon is one of Europe's most vibrant cities and frequently attracts a large number of overseas citizens who drive the demand for quality international education. We were amazed by the location and potential of the site we were offered. We felt it provided a unique opportunity to address the market for international schooling through the regeneration of a landmark building in the city centre that is fast gentrifying. There are multiple major developments underway breathing new life into this exciting district. The whole area and surrounding districts are benefitting from a sizable resurgence. Our school will actively contribute to the vibrancy of the neighbourhood. We will strive to make The Lisboan International School a community centre that the whole Alcântara district can be proud of.
---
Nowadays there are lots of discussions around Individual Learning Plans. Are you considering this global agenda in your educational approach?
In the specific sector in which we operate, individual learning plans are standard. It's clearly easier to achieve this with smaller class sizes and with high levels of staffing. Elsewhere in the sector, there's an attempt to make them standard, rather than just restrict it to students who are considered to have need of it.
The challenge here is personalization at a larger scale and having sufficient teacher support to meaningly implement ILPs in larger class sizes. If thoughtfully implemented, technology can play a role in both freeing teacher time from an assessment perspective to enable students' progress to be traced more effectively, and offer better follow-up.
One of the main challenges for any school in the world is to create and maintain a team. What do you think are the great motivation factors for teachers to join a new school? 
As a starting point, the principles, values and focus of the school play an initial role in attracting great staff, but in our experience, there's a specific profile of teacher that's attracted to a new school. It attracts a personality type that forges a more adventurous path. One that wants to help define the organization and its culture. Over time, the composition of the school's staff changes, and as the school becomes more established, there's a shift towards teachers with a different personality type.
Retention in our experience depends upon two things; firstly, and perhaps most importantly, a principal who empowers their teachers to teach the curriculum as they see fit and to maintain a focus on the individual child's progress and development. Secondly, the permanence of the community. If the community is largely ex-patriate and not somewhere the majority intend to settle permanently, then it's reasonable to expect that the retention period will be shorter.
---
It's never easy to raise money. What was the main challenge when you started your own group?
It's hard to raise money to build schools, harder than I thought. We had meeting after meeting with immensely positive feedback on our mission, values, team, and methodology, only to be told to return later down the road. Despite the superior return profile, long term stability, integral ESG components, and lack of correlation with other sectors, we have found that the world is reluctant to engage with risk.
Late-stage venture and early-stage growth is also a difficult profile for many investors. We were fortunate to have a successful friends and family round which enabled us to have the runway to launch the business, hire a quality team and begin our first phase of schools. The conversations we now have with investors are quite different.
The Lisboan school is a testimony to Lisbon's vigorous industrial past. Built by the French architects Vieillard & Touzet in 1908 as a flour milling factory, it remained in operation until 1970 as the "A Napolitana" pasta factory. The Portuguese architect Federico Valsassina was commissioned to repurpose 20,000 square meters of historical building and to turn it into a modern learning space, preserving the facades and as many of the original features as possible. The Lisboan is a hub where the international community and the local community merge, celebrating diversity and life together in the city.
Is investing in education is taking a risk?
Investment in education involves risk. You can buy a school and improve it; this isn't much of a risk. But it's not an investment in education for me. If you go and spend 20 million dollars on a new swimming pool or sports complex, that's capex. It looks nice, but it doesn't impact the value. Invest in teachers' salaries. That's investment. Raising money for operations is investing in long term, it's 10-year or 15-year money, whereas capex is 3-5-year money. It's completely different capital.
Do you have scholarships?
The Artemis Promise includes our commitment to deliver an education outreach programme that connect our schools both locally and globally. We strive to make our school more accessible to students of all backgrounds. Artemis will provide the support, logistics, and financial backing to allow our schools to do this, via school twinning, educational trips, social action programmes, and financial support.
---
Considering the ongoing global crises (pandemic, conflicts, lack of economic stability), how do you imagine education in the future?
I think it depends on which aspect of the sector you are talking about. In less fortunate communities, the application of Edtech has made access to education a very real possibility and will continue to deliver lasting social change. It also enables continuity of education amidst a variety of social challenges. The global pandemic was an enormous accelerator for ensuring ongoing investment and thought into the preparation and optimization of digital education.
Artemis's sub-sector is Tier 1 Private Education. This demands face to face teaching and socialisation in a secure environment. I don't think that is going to change, and nor should it.
December 2022