Schoolchildren do not have to play at science – they are able to make scientific discoveries on a par with grown-ups. A 12th Grader (final year of secondary) from one of the Nazarbayev Intellectual Schools (NIS) in Kazakhstan won a £4,000 (€4,750) grant for the best start-up project, named "Obtaining powdered milk whey from dairy waste" (so that it would not have to be imported). Within the school building learners can process and work with information, rather than simply receive it: they try, they invent, they experiment.

Elena Aralova, general director of school designers EdDesign, says: "Schools should have powerful, well-equipped infrastructure blocks, such as workshops, laboratories and art studios."
EdDesign LLC designs and furnishes innovative educational spaces. A prototyping center, laboratories, art workshops, culinary lab, a greenhouse, an observatory and a planetarium – all this is an opportunity for a child to know himself, try his hand, get a real profession, choose his future path. This is the intellectual center of the school, requiring deep immersion in modern science and technology.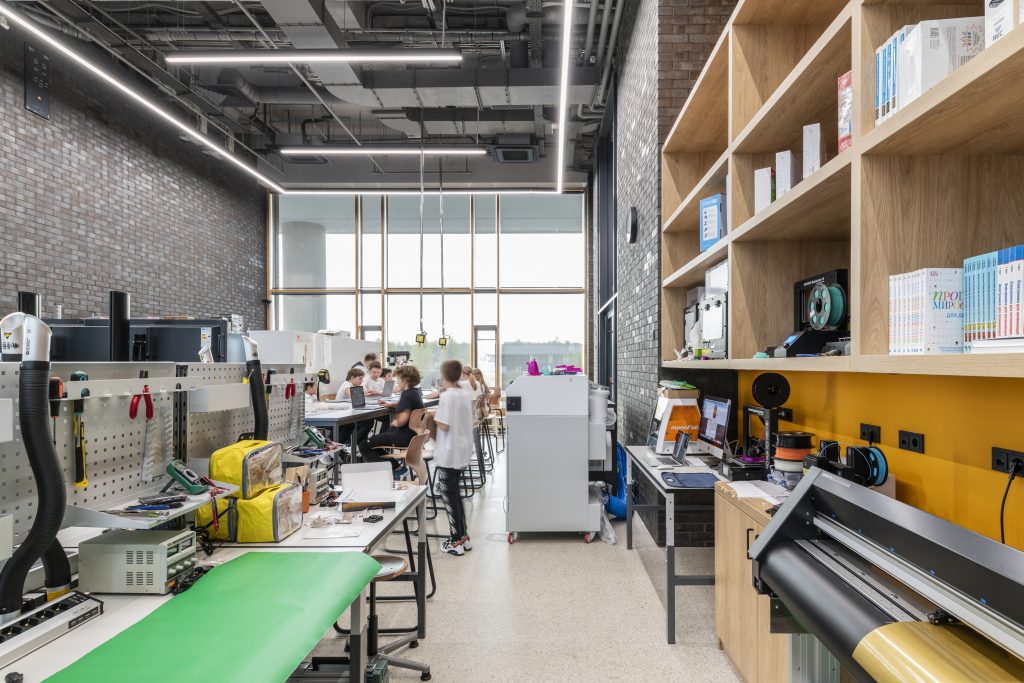 Photo: Wunderpark International School equipped by EdDesign 
---
Technical infrastructure provides a flexible environment
Getting wireless access to a projector or interactive panel should not be a problem, neither should instantly sharing audio content from any gadget. There should be the option to rearrange mobile partitions within the school premises overnight, so as to demarcate new types of spaces whenever needed. Laboratories therefore should be versatile and transformable, like those in the engineering building of State School No. 548, where – whether you study chemistry or biology – the electricity, vacuum equipment, water, compressed air and gas are supplied from the ceiling and there is access to it anywhere within the room.
Systems should be controlled automatically, like those in the Moscow private school Snegiri. All this makes it possible to change the purpose of rooms and zones. All schoolchildren are different. They will have a vast choice of ways to find the skills and knowledge they need: by attending traditional and online schools, open lectures and courses or by collaborating with experts and researchers inside the school. 
March 2023