Teaching and learning have long been subjects of extensive debate and exploration within the education community. As educators strive to adapt their methods to cater to diverse learning styles, numerous schools have emerged, each advocating for their unique approaches to education. However, amidst these trends, one institution stands out as a beacon of innovative student-centered learning: Riverside School in Ahmedabad, India. By integrating itself into the local community and nurturing a culture of engagement, Riverside has become a global example of how education can transcend traditional boundaries.
---
In a world reshaped by the COVID-19 pandemic, Riverside School demonstrates that learning can take place in a wide variety of environments. The school has embraced non-traditional methodologies, such as place-based education and community-based learning, emphasizing the connection between students and their surroundings. By doing so, Riverside has effectively utilized these alternative methods, not as mere marketing tactics but as genuine pathways to transform education.
Student-centered learning (sometimes also known as personalized learning) does what it says–places students' interests at the center of the curriculum. Student leadership is prioritized, with learners taking an active role in choosing daily topics and school policies. Essentially, teacher and student become partners in the educational process, as students help to design class rules, assessments, and even course planning.
This hand-off approach may feel odd for some teachers. Still, by offering students the opportunity to take charge of their education, students feel empowered to advocate for themselves both in and out of the classroom. Studies show that student achievement is accelerated as learners can help craft a personalized learning plan that places the student's needs and interests front and center.
Students have more control over their in-class experience, which encourages student responsibility and sponsors inquiry-based learning as students examine the topics, routines, and procedures that make up their curriculum.
Photo: The Riverside School 
---
Placing Student Voices at the Core
At Riverside School, student voices take center stage in every aspect of the learning experience. From the school's name to the design of uniforms, all students are actively involved in decision-making, from the youngest grades to how older learners wish to be assessed. Kiran Bir Sethi, the founder of Riverside, explains this act of co-creation as a way of encouraging students to question their role in the learning process. According to Bir Sethi, students are asked through these methods, "What does learning mean to you? And how can you be part of this learning journey? That is at the heart of the design." This commitment to student involvement empowers learners to take ownership of their education and cultivates a sense of agency and responsibility.

Riverside's assessment methods go beyond traditional exams and grades. The school employs a multifaceted approach that includes personal portfolios, formal assessments, jury systems, and peer self-assessment. Kiran Bir Sethi explains that the jury processes at Riverside encourage students to reflect deeply on their actions and motivations, fostering critical thinking and self-awareness.
There are a lot of what we call jury systems. I come from a design background. I was a designer by education. When we held the presentation then, we often had a jury, and the jury would be people that I didn't even know–they were external experts or other faculty members. Jury systems are very interesting.
Kiran Bir Sethi
,
Founder, Director, The Riverside School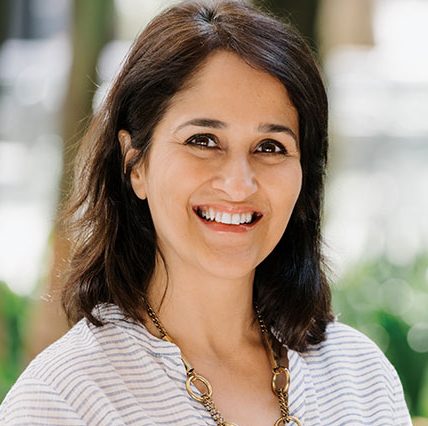 For Bir Sethi, this is a crucial aspect of a Riverside education, stating, "Jury processes, in that, you're up for scrutiny, you really have to dig deep to respond to why you did what you did. And I think this is a powerful tool that we use for the assessment and evaluation path." This holistic assessment approach supports students in developing a well-rounded understanding of their progress and achievements. 
Once a month, students at Riverside are given the opportunity for peer and self-assessment, offering feedback to each other. When self-reflection and feedback are integrated and experienced frequently, it becomes normal, familiar, and easy. For many young people, this consistently removes anxiety from the process and encourages students to evaluate and rise to challenges, whether it's a written presentation or a street play.
But centering student voices in their educational experience is hardly new. In fact, studies show that students who feel included in decision-making processes, whether that be more significant structural decisions or smaller daily choices, are more likely to succeed.
Nestled at the edge of Grand Teton National Park in the United States, Teton Science Schools takes full advantage of its stunning location. Started in the 1960s as part of a Summer fieldwork course, which led students through the massive ecosystem of Yellowstone National Park, Teton Science Schools have always been nature-based. Students engage in wildlife learning, "hands to work" cleanup, and daily organizational activities. The Upper School's "Outdoor Leadership Pathway" program allows students to live in the wild, develop survival skills, and learn about land stewardship.

Students are encouraged to interrogate their daily activities with daily group meetings to start and a "closing circle" to finish each day with reflection. Teton Science Schools feel almost idyllic in their approach to education, but in this day of constant climate change, more schools should be focused on ethical land stewardship. 

Photo: Teton Science Schools; Mithun
---
Real-World Problem Solving
One hallmark of Riverside's student-centered learning approach is the emphasis on the performance of understanding through cross-curricular knowledge. Students are presented with real-world problems that require them to synthesize information across multiple subjects. Students are challenged to apply their skills in a practical and meaningful context by engaging with scenarios, such as an in-class activity where students are given newspaper articles about an oil spill. Students must then utilize multiple skills and a wide range of subject knowledge to devise a workable, real-world solution to the problem. 
For Bir Sethi, understanding is linked to demonstration, offering the following example to highlight her point. "The 10th grade is learning maths, but the performance of understanding is a solution for a shipwreck that lead to an oil spill. To find the solution, you have to be very solid in your math. Students talk about the oil spill and discuss the coming storm, and they have to understand the situation in order to evaluate when the oil spill reaches the shore. This is a great opportunity to use the jury system. Children have to present their personal contribution to the project as well as the group contribution. So, in the end, they are not learning maths to pass a test. They learn maths to solve a problem." A holistic approach which fosters critical thinking and problem-solving and prepares students for the complexities of the modern world. However, it's not only Riverside that has attempted to achieve consistent real-world engagement for students.
Dubai, in the United Arab Emirates, might not come to mind as the first example of alternative education, and it's true most of the region still relies on fairly traditional models of education. However, Fairgreen International School in Dubai blends multiple pedagogies and instruction types to create a dynamic educational experience. 

Located in Sustainable City and powered by 100% renewable energy, this environmentally-focused campus incorporates project-based learning. Students utilize aquaponics and a bio-dome to learn about urban farming, nutrition, and science-related subjects. Due to its location, students can also access a bee garden, outdoor garden plots, an equestrian center, and even a city-based bio-dome.

 Photo: Fairgreen School Dubai
One of the most established pedagogies instituted in recent years is project-based learning. This pedagogy aims to allow students to investigate community or global issues and create solutions using cross-curricular knowledge. This methodology has gained widespread traction since its inception in Canada during the 1980s. With its focus on collaborative learning and encouraging student autonomy, project-based learning quickly became a global movement. 
Nowadays, many curriculums include a STEAM project (Science, Technology, Engineering, Arts, and Mathematics) encouraging students to address real-world problems using information and skills gained in their core classes.  While project-based learning has always focused on 'real-world problem solving,' some educators and parents note that there is often a break between the school marketing materials and what happens in the classroom. 
---
Nurturing Global Citizenship
While many schools aim to include some form of service as a graduation requirement, service learning schools take this theory a few steps further. At service-based schools, students engage in meaningful acts of service within their local and the broader global community. Most service learning schools incorporate these experiences in their classroom instruction, encouraging students to actively reflect as part of their curriculum. Civic responsibility, empathy, and community values are strengthened by placing service at the forefront of the student's education.
Proponents of this pedagogy regularly argue for its ability to build critical thinking and problem-solving skills, as well as increased academic retention. And since service-based learning pushes students to work within their community, real-world outcomes are regularly produced, giving students confidence and an increased sense of place within the world.
However, while many students herald their service program as a central facet of the student's educational experience, many schools only do the bare minimum when actually incorporating this ideology. Are students spending a good portion of their day engaging in the community?
Riverside School places a strong emphasis on nurturing global citizenship among its students. The curriculum actively encourages students to explore and understand international issues, fostering a mindset rooted in compassion and purpose. The school's renowned Design for Change program, now used by over 2 million children in 65 countries, empowers students to create positive change through empathy and play. 

While academic excellence is highly valued at Riverside School, the institution places equal importance on community service and student projects. From the early years, students are expected to engage in service activities, gradually deepening their commitment as they progress through different stages. The Riverside community has witnessed students dedicating themselves to chosen service organizations for years, exemplifying the lasting impact of the school's commitment to service learning. Through their experiences participating in the wider world of community engagement, students develop empathy, social responsibility, and a profound understanding of the power of collective action.
Right from the early years, there is an expectation that all students will do service. For the early years, it's called 'think through,' where we expose our children to different situations and try to understand and think through the scenarios. In key stage two, children do something called 'citizenship,' where they attach themselves to a particular cause that they feel passionate about, an NGO perhaps, and work with them for an entire year. In key stage three, the oldest children have to choose a particular area of service and stay with it for five years. Change takes time.
Kiran Bir Sethi
,
Founder, Director, The Riverside School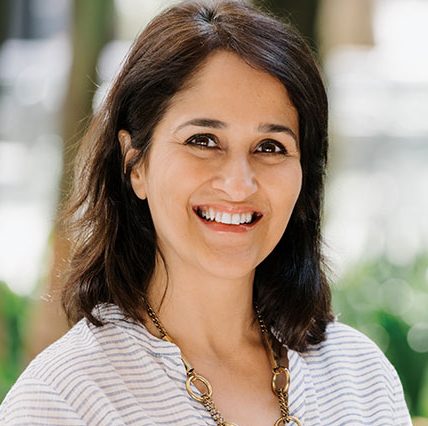 For Bir Sethi, however, longevity is a crucial aspect of dedicated service. While the program began in 2008, fifteen years on, some students are still working with their chosen service organization. Students are given multiple options when choosing an NGO, or can, of course, research and discover an organization that aligns with their interests. Over the years, students have worked with the Pediatric Cancer Ward at the Civil Hospital, Umang School for the Hearing Impaired, and Samvedhna Development Society, all of which are committed to community action and service. 
And just as the last change takes years, consistency is equally essential. "Two hours every week are devoted to service. We work with old age homes, we work with children with cancer. We identify places that will invite children to collaborate. Our concept is that the service will become a part of your education journey," Bir Sethi says. "It is very important to measure the impact of your presence in a space." Students attend an annual board meeting with experts in the field of social service in order to ensure that goals are met, presenting their project objectives, budget, and potential impact. 
Often, public and private schools will place service projects at the edges of their curriculum, pushing them into the realm of 'extra-curricular' activities. However, when service is more directed and entrenched within the classroom experience, the ideals of service become more entrenched. At the American School in Dubai, service outcomes include direct service, indirect service, advocacy, or research. Whether in a Week Without Walls trip or in classrooms across the school. Elementary school students are a part of 'Roots and Shoots,' an educational conservation program from Dr. Jane Goodall that helps to protect chimpanzees. In contrast, older students are encouraged to go on different service missions throughout the world (Nepal, and Kenya, for example).
The emphasis on real-world problem-solving is another hallmark of Riverside's student-centered learning approach. By presenting students with authentic, cross-curricular challenges, the school equips them with the skills necessary to navigate the complexities of the modern world. Through projects and activities requiring the synthesis of knowledge across multiple subjects, students develop critical thinking and problem-solving skills essential for success beyond the classroom. Riverside School recognizes that the ability to apply knowledge in practical and meaningful contexts is vital for students to become active participants in their communities and make a positive impact.
Riverside's commitment to global citizenship is equally noteworthy. The school actively encourages students to explore international issues and develop a deep understanding of different cultures and perspectives. Through programs like the Design for Change initiative, students are empowered to create positive change in their communities by applying empathy and problem-solving skills. By nurturing a sense of responsibility and compassion, Riverside equips students with the tools they need to become informed global citizens who are capable of tackling real-world challenges.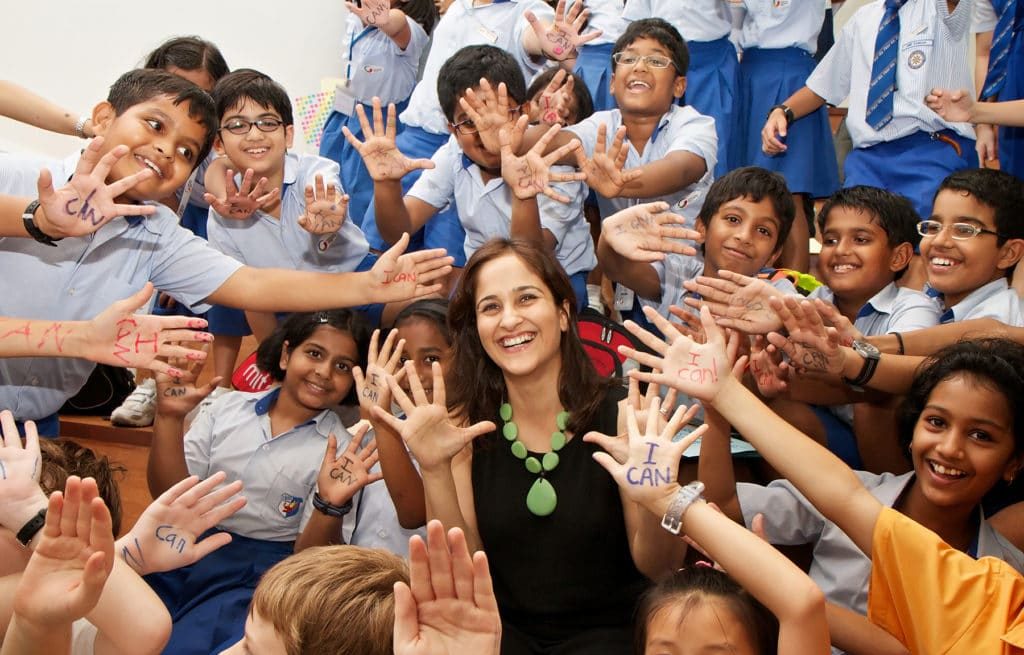 Photo: Design for Change India
And Bir Sethi is not afraid to challenge her students. "Empathy happens when you have an experience of understanding, not intellectual understanding." She says. "A lot of what we craft in terms of the experiences that accrue through the service journey for the year is building on a very deep sense of experience. If you go to my YouTube, there is a piece where students understand children's rights. They go through a three-day experience. Intellectually, if I talk with you about it, you will say, 'Oh, so sad, very bad.' But it would never have gone to your bones, and if it doesn't go to your bones, then it's likely you'll never think about it again. Children should be immersed and driven to make an impact." 
"No active change should be done without an experience," she points out.

The impact of Riverside extends far beyond its immediate community, as do all great teachers and institutions. The widespread adoption of Riverside's programs and practices in countries around the world is evidence of this. The Design for Change program, which originated at Riverside, has reached millions of children globally, demonstrating the scalability and effectiveness of the school's approach. 
Traditional education models are being challenged to adapt and evolve in a rapidly changing world. Riverside School has emerged as a trailblazer in the field of student-centered learning, demonstrating that education can transcend traditional boundaries and empower students to become active participants in their own learning journey. As other schools and educational institutions look to reimagine education, they can find inspiration and valuable lessons in Riverside's innovative approach.
June 2023